The USAID Feed the Future Enabling Environment for Agriculture Activity has been officially closed. The Government was represented by Hon. Vincent Bamulangaki Ssempijja the Minister for Agriculture, Animal Industry and Fisheries and Ms. Beatrice Byarugaba the Director for Agricultural Extension Services who also represented the Permanent Secretary.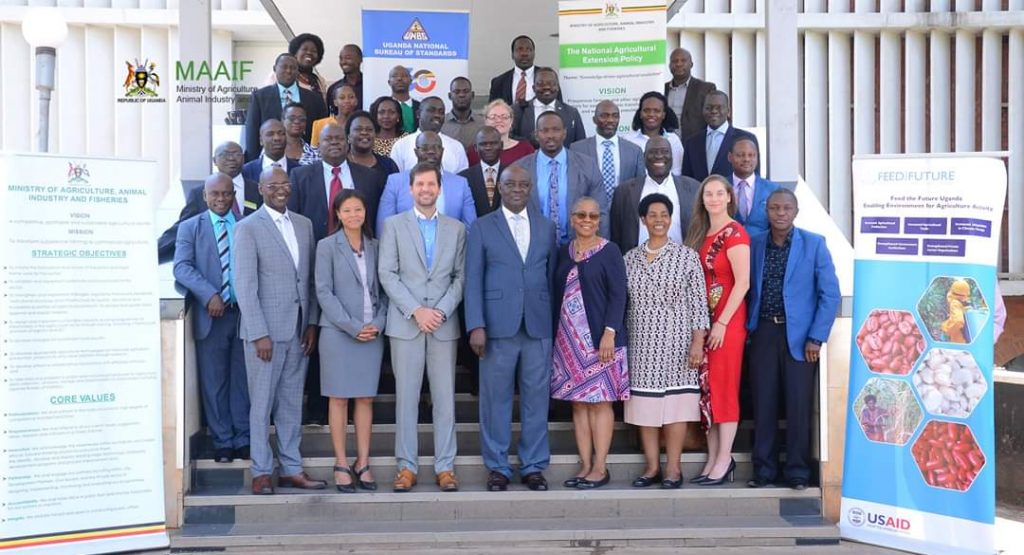 Through collaboration with EEA, the following results have been delivered:
• Development of the National Agricultural Extension Policy and its Implementation Strategy to address past shortcomings in agricultural extension service delivery and cause sustained progression of smallholder farmers from subsistence agriculture to market oriented and commercial farming.
• Launch of the National Seed Policy and Strategy to foster a pluralistic, competitive and vibrant seed system in Uganda ensuring farmers have access to quality seed, improved crop quality and expanded farm yields increasing incomes for farmers, traders, exporters and other seed sector actors.
• Development of Harmonized farmer training materials on maize, beans, coffee, poultry and aquaculture for use by extension workers to train smallholder farmers and other actors in the value chains.
• Development of the National Food and Agricultural Statistics System (NFASS) and National Agricultural Statistics Data Center.
• Development of the Climate Change Strategy for the Agriculture Sector to galvanise efforts to empower stakeholders to take measures towards the reduction of the negative impacts of climate change and variability on agriculture.
• Capacity strengthening initiatives including training of Ministry Top Policy Management, Senior Management, Inspectors and Extension workers
• Collaboration in the development of the draft Mechanization, Livestock and SPS policies.