The new Ugandan Agriculture Minister has vowed to deal with corruption as he took office. "If the ministry of Agriculture, Animal Industry and Fisheries (MAAIF) is to achieve it's set goals and objectives it must stay clear of corruption tendencies," said Hon. Frank Tumwebaze.
Hon. Tumwebaze made the remarks while he was taking over office from the outgoing Minister Hon. Vincent Bamulangaki Ssempijja who is taking over the ministry of defence and veterans.
"As a minister, you might not be involved in the corruption scandal. But if there's a corruption scandal in your ministry you are also culpable," Hon. Tumwebaze said
The Minister was echoing President Museveni's call to his new cabinet to avoid corruption during this new term. "Don't seek favors and don't accept any," President Museveni said on June 21, 2021 after the cabinet was sworn in at Kololo independence grounds. "Don't tolerate corruption under you. This must be a government of no corruption. There is no corruption I don't know and I appeal to you the ministers not to ask for favors from anybody or accept anything," said the President.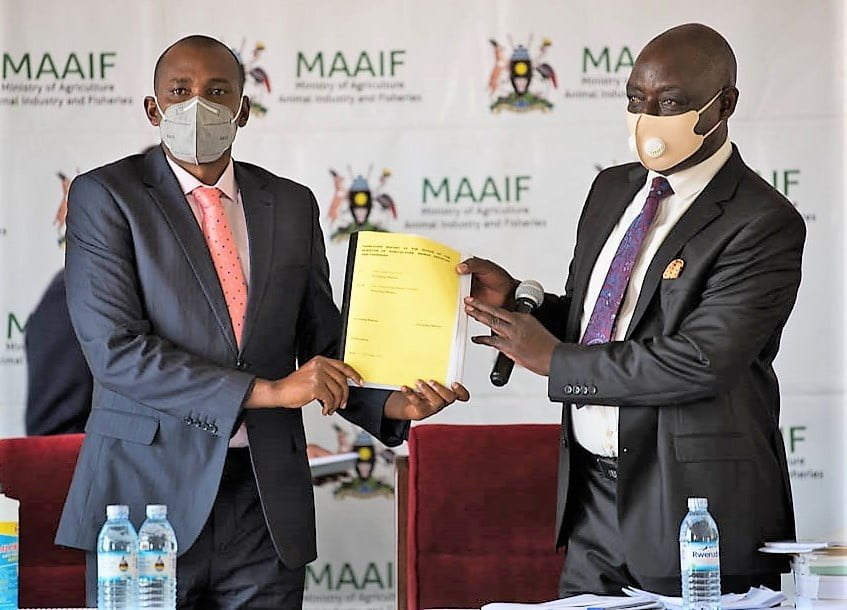 Hon. Tumwebaze also hinted that among other things he is going to emphasize is the mechanization of agriculture. He also called on his team to reduce the time they spend in conference hall gatherings but should be working in the field. "I hate being in conferences all the time. Work is in the field. I want to see people in the field working," he quipped.
Hon. Ssempijja who has spent the last five years at the ministry's helm updated the incoming ministers and other senior Ministry staff about the ministry's status. "During the last year, the sector has had challenges. We had the problem of desert locusts then we had Covid. You are well aware of how our farmers were giving out eggs, Matooke, chicken. Now Covid is back again," he said. Hon. Ssempijja thanked the president for allowing him to serve in the agriculture docket which he said is the backbone of Uganda's economy.