By Kimuri Mwangi
The root crops sub-sector has for a long time received inadequate policy attention thus limiting their potential contribution to the food and nutrition security of millions of households.
These include cassava, potato, sweet potato, arrow roots and yams.
This week they will be in the spotlight at the 19th Triennial Symposium of International Society for Tropical Root Crops that is taking place in Nairobi Kenya. It started on 21st November and ends on 25th November.
Speaking during the opening ceremony, Dr Canisius Kanangire the Executive Director of the African Agricultural Technology Foundation (AATF) the symposium will help to expand and continue the partnership between roots crops stakeholders in Africa and beyond.
"We must elevate root crops to enjoy the attention given to mainstream cereal crops in both policy and research. After all, we know that root crops can provide more edible energy per hectare per day than any other crop group. In most of Sub-Saharan Africa, root crops provide up to 20% of dietary calorie needs for a large proportion of rural populations," said Dr Kanangire. He added that in recent times, root crops have gained further attention for their potential to act as a buffer against the ravages of climate change on the food and nutrition security needs of many households, especially in Sub-Saharan Africa. They also represent an untapped potential in agro-processing and industry.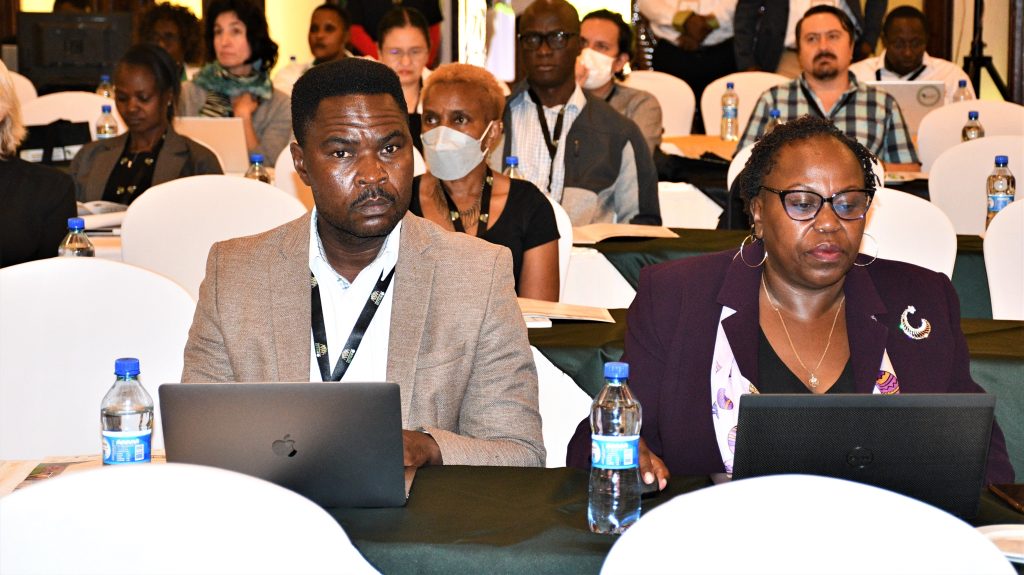 The Cabinet Secretary for Agriculture and Livestock Development in Kenya Mithika Linturi in a speech read on his behalf by Dr Oscar Magenya the Research Secretary in the ministry,
Said that in Kenya, market demand for roots and tubers is expected to continue growing, driven partly by rapid urbanization, and changing dietary habits of the growing urban populations. He noted that in many of our towns and cities, the Roots and Tubers have made a steady transition from the perception as a low-income food option a few decades ago, to becoming part of the mainstream dietary choices even for the upper and the growing middle class.
"However, the production of main root crops such as Cassava, Sweet Potato, Coco Yam, and Yams among others remains below potential. The transition of the status of the crops that I referred to presents a challenge to policymakers, researchers, and other value chain actors to strengthen the Roots and Tubers Value chains in order to increase their competitiveness in our agri-food systems. To achieve this, we need to undertake several initiatives including supporting smallholder farmers in this sub-sector to commercialize the production of the Root and Tuber crops," said the CS.
The CS also said that Kenya has laid out a clear roadmap for sustainable growth and development of a vibrant Root and Tuber crops subsector as set out in the National Root and Tuber Crops Development Strategy 2019-2022. The National Root and Tuber Crops Strategy aims at advancing the development of the root and tuber crops in Kenya from an initial focus on high-yielding varieties and pests and diseases tolerance, to include a wider range of other intervention areas that are essential to the sub-sector. The strategy aims to ensure well-functioning producer institutions and markets, availability of quality planting materials, establishing economic volumes, and exploring and expanding opportunities for processing to increase incomes across the value chain and especially producers' incomes.
Other anchors of the strategy include organizing stakeholders for coordinated access to agribusiness support services, creating forums for partner institutions for continuous collaboration, establishing efficient data collection and information exchange, and developing of market supply chain infrastructure for improved marketing of root and tuber crops.
Dr Eliud K. Kireger, the Kenya Agricultural and Livestock Research Organisation (KALRO) Director General said that roots and tuber crops are sources of income for Kenyan farmers and are climate resilient. Above all, they provide carbohydrates, minerals, vitamins, and raw materials for industrial food processing and blending.
"In Kenya, cassava, potato, and sweet potato are cultivated in about 61,000ha, 18,5000ha, and 6,000ha respectively. The estimated per capita consumption of cassava, potato, and sweet potato is 20kgs, 33kgs and 18 kgs, respectively and based on the current population of 54M, the country requirements are 1.1Million MT, 1.8million MT, and 1million MT respectively, while the annual production is estimated as 0.82 million MT, 1.7 million MT, and 0.81 Million MT respectively. This indicates a national demand deficit for cassava, potato, and sweet potato of 0.25 Million MT, 0.08 Million MT and 0.16 Million MT respectively. However, if the utilization is expanded; such as food processing, animal feed as well as flour blending, the deficit would be higher," said Dr Kireger.
He added that KALRO in collaboration with partners have developed and released over 19 varieties of cassava (KMEs, Tajirika, Karembo, and Karibuni), over 50 potato varieties (Unica, Shangi, Sherekea, and Asante), and over 24 varieties (Kenspots, SPKs, Kemb10, Mugande, Vitaa and Kabonde) of sweet potato. However, arrow roots and yam production are catching up and require increased research interventions to strengthen productivity.
"Enhanced production of roots and tuber crops, is expected to make a huge contribution to our economy, and to the achievement of Vision 2030. We are cognizant that the agriculture sector directly contributes 25% to GDP, 60% of export earnings and 75% of the country's industrial raw materials, employs 80% of the rural workforce and provides more than 18% of formal employment. KALRO believes that the technologies, innovations and management practices on root and tuber crops that will be shared, and partnerships and linkages that will be created through this 19th ISTRC forum will help boost food and nutritional security for all our people," opined Dr Kireger.