More than 350 researchers, policy-makers, development partners and entrepreneurs have been meeting in Kigali to exchange knowledge and experiences on potato and sweet potato production as during the 11th triennial African Potato Association (APA) Triennial Conference that ran from the 26th to 29th August 2019.
The triennial conference was officially opened by the Minister of Agriculture and Animal Resources, Dr Gerardine Mukeshimana, and cohosted by the Rwanda Ministry of Agriculture and Animal Resources (MINAGRI), Rwanda Agricultural and Animal Resources Development Board (RAB) and the International Potato Center (CIP).
Themed "Leveraging the contribution of potato and sweet potato for sustainable nutritious food systems," attracted participants from 20 African countries and beyond.
Speaking at the opening of the conference, Minister Mukeshimana noted that the Kigali APA Conference will be an opportunity for Participants from sister countries in Africa, working on potato and sweet potato research to engage in discussion and sharing research developments, challenges facing their development and chart ways and strategies to overcome them.
Minister Mukeshimana highlighted the importance of potatoes in Rwanda as they are playing a great role in ensuring food security and providing nutritious foods.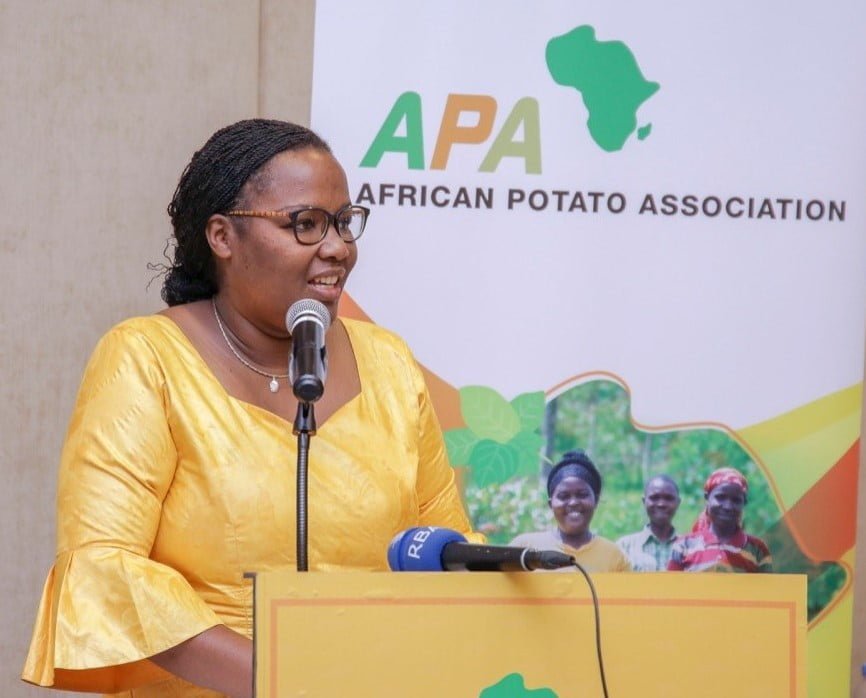 "Sweet potato is an important food security and nutrition crop in Rwanda and contributes as source of family cash income. In caloric terms, Sweet potatoes contribute to 21.6 % of the total national requirements," the Minister said. " The average productivity of Potato and Sweet potato in Rwanda is 10 tons/ha and 7 tons/ha, respectively. This productivity is low compared to yield potential. The Ministry of Agriculture is collaborating with partners to address these challenges through research programs," she added.
Potato and Sweet potato are among the most important staple and cash crops in Rwanda, grown in range of agro-ecologies and producing over two million tons annually.
Potato and sweet potato cover 3.9% and 5.2% respectively of the total cultivated area. Statistics of the National Institute of Statistics of Rwanda indicate that the per capita consumption is 125kg for potato and 145 kg for sweet potato per year. In Rwanda, Potato is the third crop after Cassava and Sweet potato, in terms of volume of production, and it became an important cash crop in the Northern volcanic areas, highlands of Buberuka and Congo/Nile Divide.
This Northern volcanic region accounts for more than 80% of the national potato production, while the rest is produced on marginal plantations throughout the country. In this highland region, potato is the staple food with more than 60% of the production being used directly for home consumption. The government of Rwanda has strategies to sustain the potato industry: seed production in the lab has increased from 20,000 plantlets in 2001 to 800,000 plantlets in 2017.
Sweet potato is also an important food security crop in Rwanda grown mainly for household consumption and also as a source of family cash income. The crop is cultivated throughout the country and is especially important in densely populated areas of the central plateau, and Bugesera.
There were more than twenty-two (22) agriculture research institutes, local and international NGOs and private companies involved in the agriculture value chain who exhibited what they do.