Modern beekeeping has raised standards in honey processing as hygiene and quality are what consumers look for in the final product. This requires modern equipment for handling and processing honey after harvesting. Here are some of the modern equipment found at Savannah Honey.
Centrifuge Machine (Honey Extractor)
This piece of equipment is designed to aid the process of honey extraction from the combs after harvesting. It is made up of a stainless-steel body encasing, and a metallic crank that turns releasing honey from the comb using centrifugal forces.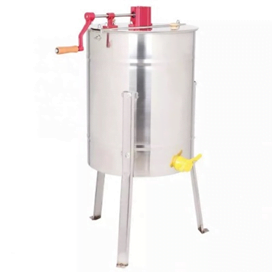 In the interior is a stainless-steel tank that can hold up to 3 frames at once. All the components are made from food-grade materials that are easy to clean and are safe for human consumption. Similarly, the components are rust-free, and abrasion proof, ensuring the highest food safety standards. The driving crank operates efficiently, and the device is ideal for commercial and household beekeeping processing
Double Sided Sieve
The stainless-steel double-sided sieve is ideal for straining honey after harvesting, thereby removing impurities from the final product.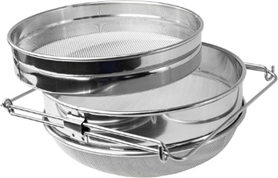 It is made from food-grade steel, and the strainer is fine, and double-placed to give you best service during honey sieving. Furthermore, the sieve is made to be impervious to corrosion, oxidation, thereby ensuring honey safety. It can be easily cleaned and reused. The sieve boasts of an adjustable girth and arms to work well with different buckets of varying diameters. For clean, impurity-free honey output, this accessory is perfect for you.
Stainless Steel Honey Warmer
This container plays a useful role during honey packaging. It is a 100-litre container fitted with a heating element, and a thermostat to regulate the temperature. This helps to ensure that your honey is at the right temperature, and liquid state during packaging.
Heating helps decrystallize honey, to ensure smooth flow. A honey gate ensures that the liquid is poured accurately thus avoiding messes and wastage.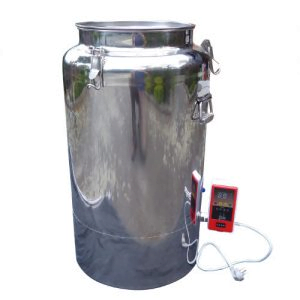 With a stainless steel body, the warmer is easily cleaned, and is rust free. The thermostat enables you to maintain the honey's temperature at a safe 30°C which is ideal for packaging. You can also mix it conveniently with other additions where necessary. The 100-litre capacity ensures that you get substantial amounts of honey at a go ready for packaging.