By Kimuri Mwangi
Farmers have been urged to use protective clothing when spraying their crops to protect themselves against the effects of the chemicals they use. Nyandarua Governor Francis Kimemia says that farmers use chemicals often when spraying crops and their livestock and this could be related to the increasing cases of cancer among the farming community. "We need to educate our farmers on the safe use of chemicals and I urge our agriculture CEC Dr. Karitu to ensure this is done in Nyandarua," said the Governor.
He also urged farmers to consider taking cancer tests as many people were being discovered to be suffering from the disease when it was already too late to treat it. "It is good to be tested because if it is discovered at stage one it is easier to treat it than when it has reached stage four. My own father died from Cancer as it was discovered at stage four," he added.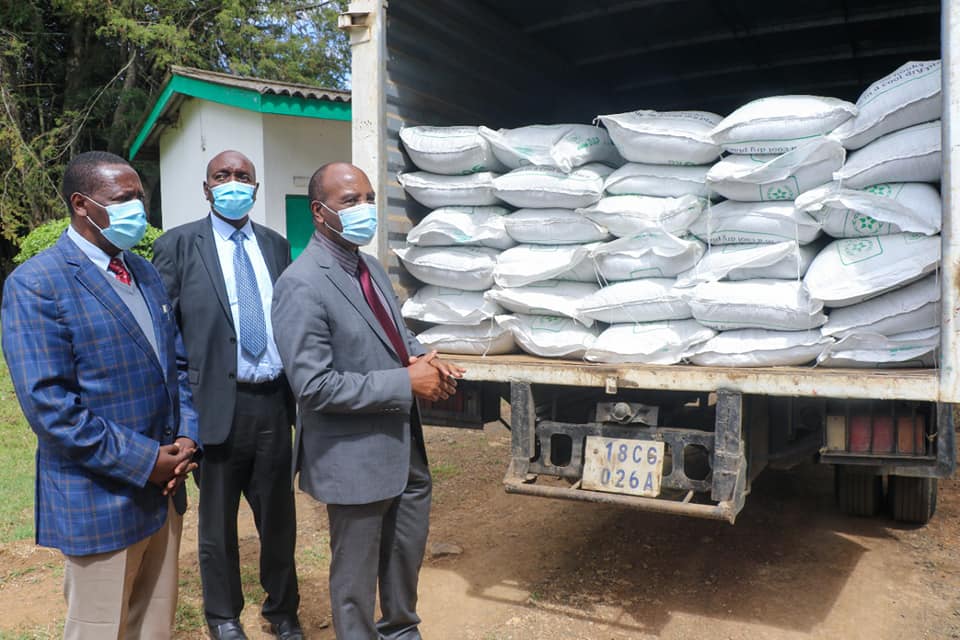 The Governor was speaking as he flagged off the distribution of 6,000 (50 kilograms) bags of subsidized fertilizer to farmers at Agriculture Training Center in Gatimu, Ol'Jororok Sub-County. The fertilizer will be distributed to farmers across the county. Governor Kimemia said his government had given out 12,000 (50 kilograms) bags of fertilizer across Nyandarua since it came to power. Seven farmers' groups also benefitted with 50 dairy goats while 23 sheep were given out to five farmers' groups. Other vulnerable farmers were also given 18 dairy cows.
Kimemia said that more than 400,000 cows have been vaccinated against lumpy skin, foot and mouth diseases without charging farmers which had enabled the county to increase its milk production.