World Vision in partnership with the County Government of Tana River has rolled out the distribution of 12.3 Metric Tonnes of seeds that will benefit over 1,000 farmers in the area. An initial consignment of 300 bales of maize and green gram seeds have already been flagged off by Mwanajuma Hiribae, the Tana River County Executive Committee Member (CEC) for Agriculture,in Hola.
The farmers, who are located in Kenya's Tana Delta and Tana North Sub-Counties, will also receive cowpeas, beans and high value crop seeds for onions, tomatoes, capsicum and watermelon. Additionally, 315 farmers will receive solar powered drip irrigation kits that can serve one acre of land.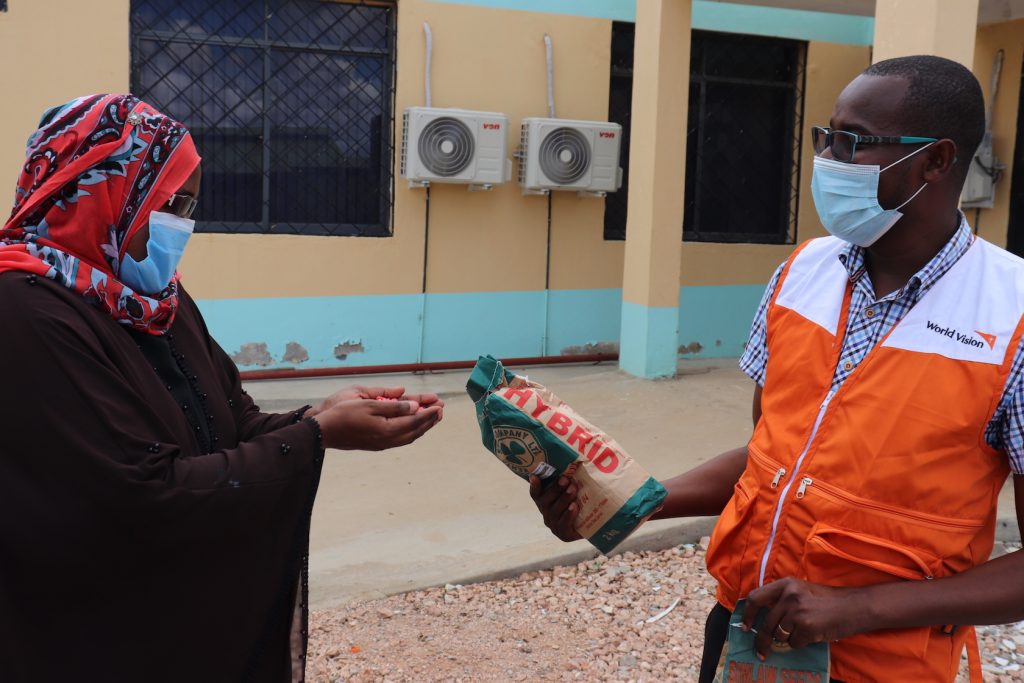 The seed donations, purchased by World Vision through funding from the Office of the United States Foreign Disaster Assistance (OFDA), will offer a reprieve to many families that are already burdened by the economic impacts of COVID-19 in the Coastal region, as well as the ongoing floods that have adversely affected their livelihoods.
In adherence to Government directives on observing social distancing to fight COVID-19, the seeds will be distributed in a systematic manner through the County's Agriculture Offices in the Wards. Farmers will come for them in turns, at locations closer to their homes so as to avoid congestion.
"The seeds distributed are part of World Vision's initiative in Tana River County to improve food access for families and reduce malnutrition in children by increasing and improving agricultural productivity and food security," said Emmanuel Mkoba, the World Vision Area Programme Manager for Lamu and Tana River cluster in Kenya.
World Vision supported the training of the of the more than 1,000 farmers on climate smart agriculture, irrigation techniques and pre and post-harvest management, between January and March 2020. Among the trained farmers, approximately 300 have established kitchen gardens.
"Most people here live in poverty and the population growth rate is high. So, the County is faced with the challenge of increasing food production to cater for the increasing population and to alleviate poverty. Such seed distribution initiatives are therefore beneficial to us, as they will significantly contribute to an increase in food security in Tana River. This is extremely important at this time when the Coastal region is grappling with COVID-19 challenges," said Hiribae.