Representatives of the implementing Ministries of the Uganda Multi-Sectoral Food and Nutrition Project have concluded a plan to step up awareness creation across the country starting with 1500 schools and the communities around them through school, regional and national level Competitions in Creative Arts, Music, Dance and Drama.
This is part of the five-year Multi-Sectoral Food Security and Nutrition Project (UMFSNP) that is being supervised by the World Bank and implemented by Ministry of Agriculture, Animal Industry and Fisheries (MAAIF), Ministry of Health (MoH), Ministry of Education and Sports (MoES) and Ministry of Local Government (MoLG) with Office of the Prime Minister as a coordinating entity.
Other aspects of the project are already being implemented in 15 district local governments of Namutumba, Iganga, Bugiri, Kabale, Ntungamo, Isingiro, Bushenyi, Kasese, Kabarole, Kyenjojo, Kiryandongo. Nebbi, Arua, Maracha, Yumbe.
The project is reaching households and communities with government primary schools as entry points totaling up to 1500 UPE schools in project districts. In each of the 1500 primary schools, project implementation structures were established and these include; School Nutrition Committees (SNCs), Community Procurement Committees (CPCs), Parent Groups (PGs), Lead Farmers (LFs) and Lead Mothers (LMs).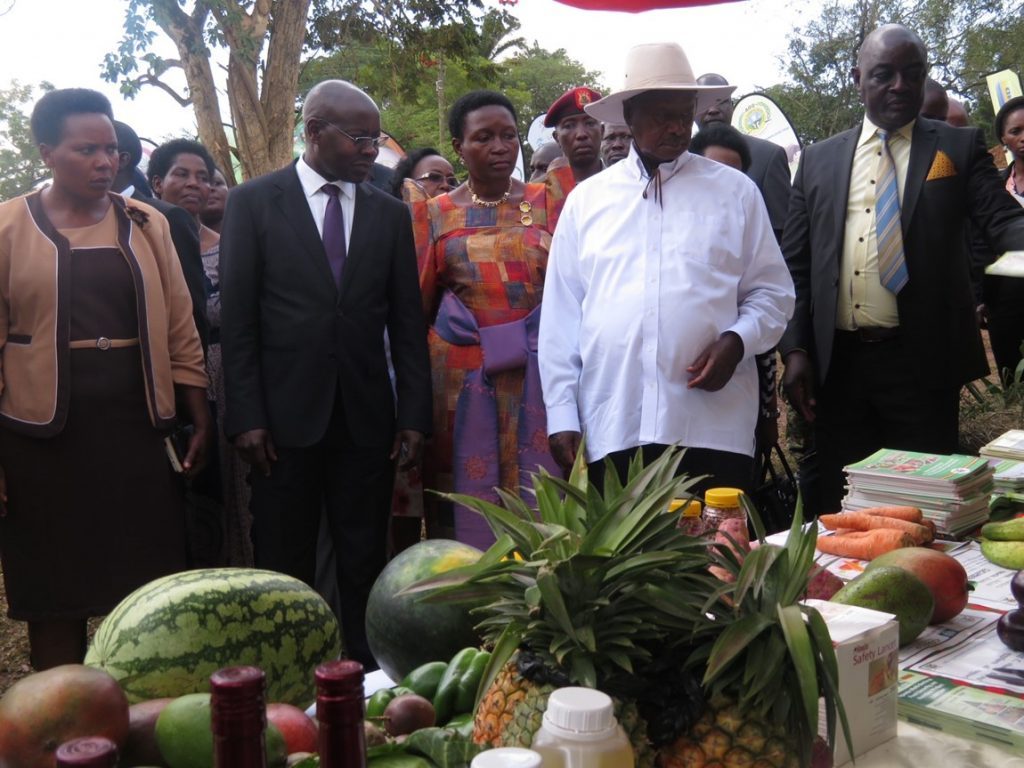 The Ministry of Agriculture Animal Industry and Fisheries (MAAIF) leads in the provision of agricultural technical guidance and support and in the overall coordination of community nutrition-based services delivery in the project areas. The Ministry of Education and Sports (MoES) takes leadership in all the activities towards the demo production of micro nutrient rich foods, cookery demonstrations and delivery of nutrition education and interventions in the schools.
Ministry of Health (MOH) provides and oversees improved community-based nutrition services delivery through Village Health Teams and staff at lower level health facilities.
The Ministry of Education and Sports (MOES) has over the years has organized school Music, Dance and Drama (MDD) festivals. These festivals are organized on set themes designed by the MOES with her partners on the premise that MDD as a traditional medium for communication, provides effective entry points into the community with interventions that focus on awareness creation, information dissemination and behaviour change.
The UMFSNP plans to undertake MDD activities at school, district, regional and national level for all its 15 project districts inclusive of the new ones curved out of them. The items for the MDD competitions include Poem, drama, song (original composition), speech, dance and essay writing.
Objectives of the MDD activities for UMFSNP schools
The MDD activities will help increase awareness on the production and consumption of MNR crops, importance of a balanced diet, community uptake of health and nutrition services in line with the UMFSNP PDO through the provided themes. The MDD activities will provide an entertaining and interactive means of learning for the learners and the community members. They will further reinforce the appreciation of UMFSNP activities and interventions at school and community level.