The Ugandan Government is constructing regional mechanization centers in Buwama – Mpigi district (Central Region), Agwata – Dokolo district (Northern Region), Kiryandongo district and Mbale district. The regional mechanization centers will decentralize the irrigation and water for agriculture production services.
The centers will be equipped with tractors and maintenance tools/ mobile workshops. The centers will also be responsible for maintaining Government tractors and repair/ maintenance of privately owned tractors in the district at cost recovery basis. The establishment of the centers was phased and by December 2019, Buwama was at 60% completion while Agwata was at 50% completion. The first out of the 5 is the one in Agwata that has been officially opened to the public.
The centers will be managed by a Senior Engineer who will work with a Mechanical Engineer, an Irrigation Engineer and a Civil Engineer. The centers will also host trained operators and Senior Agricultural Engineers whose role is to provide advisory, servicing and maintenance as well as coordination with the farmer groups.
Hon. Henry Bagiire the Minister of State for Agriculture has officially opened the first out of 5 Regional Agricultural Mechanization Centers. The Mechanization Center for the Northern region will host excavators, self-loading tracks, heavy earth-moving equipment, bulldozers and Mobile Mechanization Workshop Trucks for use by farmers in the region.
Hon. Bagiire who was accompanied by Mr. Pius Wakabi Kasajja the Permanent Secretary in the Ministry of Agriculture, Animal Industry and Fisheries (MAAIF) highlighted the current drive to boost Agricultural Mechanization as a major step by Government as committed in the National Development Plan.
"The opening of this Mechanization Centre for the Northern Region is one of the steps taken by Government through the Ministry of Agriculture, Animal Industry and Fisheries to bring Mechanization services even closer to the farmers," said Hon. Henry Aggrey Bagiire.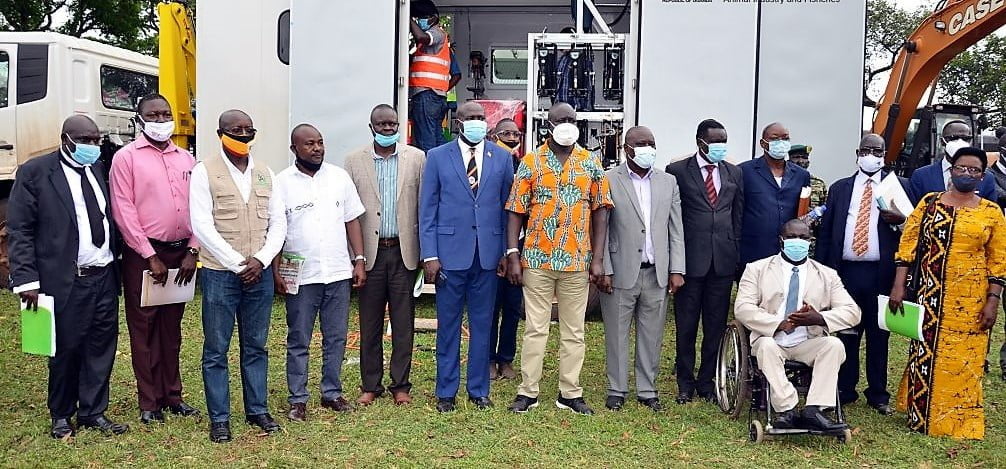 The Permanent Secretary said that farmers who have been accessing mechanization services prior to the launch have reported increased efficiency and opened up more land for production. He added that the centers will make that possible for more farmers.
Hon. Musa Francis Ecweru, the State Minister for Relief and Disaster Preparedness recognized the new steps taken to roll out the Agricultural Mechanization Programme to the 5 planned regional centers as one that will increase food security in Uganda.