By Kimuri Mwangi
When I spoke with Joshua on phone regarding a post I had seen on social media, I expected him to be around Nairobi so that I could visit him. After a few questions, I would later learn he was even far than I thought. "Come and see what we are doing, we are based in Kitale," said Joshua. The Covid-19 pandemic had started affecting normal life and although the curfew and travel restrictions had not been announced by then, long-distance travelling was not on my mind. But after listening to Joshua for a few more minutes, I decided to make the journey to Kitale.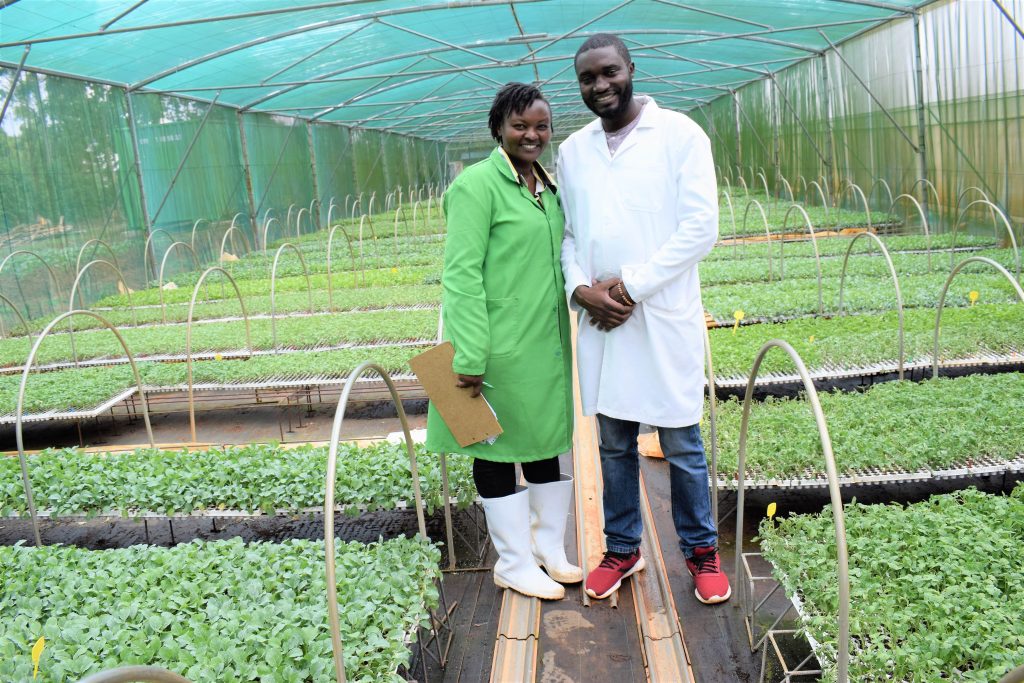 My journey was uneventful and finally, I arrived in Kitale town which has a rich agricultural history in Kenya. Situated in Trans-Nzoia County, the area around the current Kitale town had fertile lands that attracted the attention of the British government. In 1908, Britain had conducted a survey and seen the agricultural potential of the land. White settlers were encouraged to settle there and in 1919 after the First World War, the first ex-soldiers arrived. They alighted the train at Londiani and from there, ox wagons carried their furniture and tools to Kitale. Many more would arrive later and they developed farms in the area. Companies build temporary buildings near a water tank and the town began to take shape. The first entities to open up were the Standard Bank, the Post office, Howse & McGeorge, the veterinary office, and Buck's Hotel and Garage. Kitale Club was founded in 1924 and St. Luke's Church Kitale was also built in 1928. And thus out of agricultural activities, Kitale town was born.
The area has maintained that reputation and Trans-Nzoia County is often referred to as the food basket of Kenya. This is in relation to its large production of wheat, milk and maize.
Back to my visit and after being picked up in Kitale town, we head to Growpact Kenya Limited located in Kiminini Constituency, Waitaluk Sub-county. I am welcomed by Joshua Mugendi Njiru and his wife Mercy Mugendi into the office. Later after an extensive tour, I get to listen to their story. Joshua is a Bio-technologist with a PhD in Bio-technology and we will now call him Dr. Njiru. Mercy did Mathematics and Computer Science in her Undergraduate and has a Masters in Applied Statistics.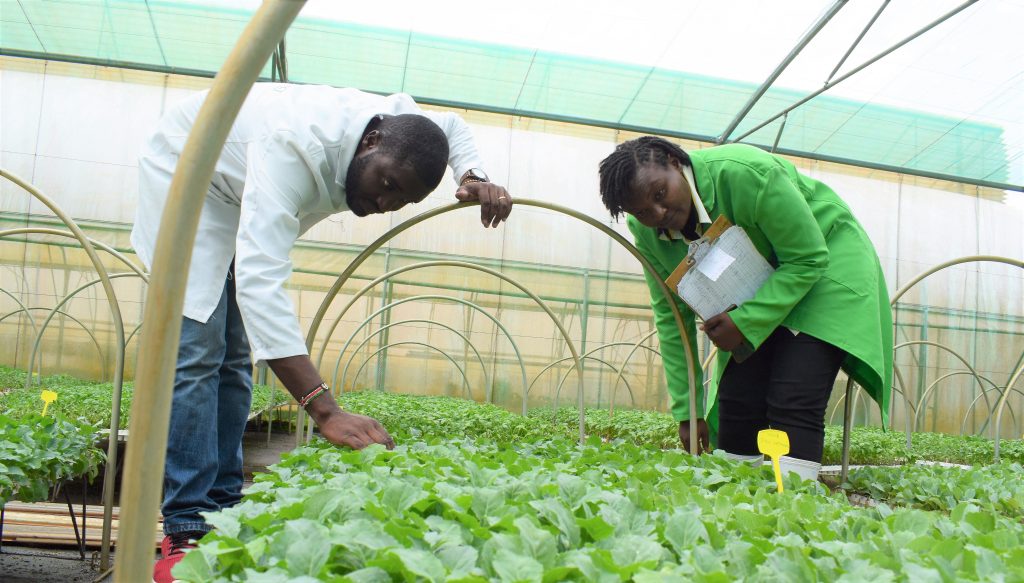 "We are Proprietors and Directors of Growpact Kenya Limited, an agri-business company that deals in the propagation of seedlings of fruits, vegetables and herbs. I come originally from Embu but in the spirit of being pure and true Kenyan, my wife and I found ourselves in Trans-Nzoia County and this is our new home," says Dr. Njiru. I ask him how they found themselves in seed propagation and Trans-Nzoia. They laugh and look at each other wondering who will answer that. Dr. Njiru explains that he was working with the International Institute of Tropical Agriculture (IITA) where he dealt with the genetic improvement of sweet potato and cassava. "When I was doing my research at IITA, I came to interact a bit with the seed system which includes beside quality planting material and seed but also the management of the seed. That is actually what drove me to start thoughts and ideas and looking for partners and potential avenues that would see me contribute to the seed system. I managed to tag along with my wife who has nothing to do with plants," says Dr. Njiru.
The couple decided to establish a seed propagation unit in February 2015. They took the bold step of leaving their jobs, took all their savings and decided to follow their vision. "It is not easy, but it takes that inner gut, that inner feeling of we can do this let us just go do it. However the returns are, we accept it and move on," says Mercy. The couple had informed their families of their intention and they supported them. However, they decided not to tell their friends or colleagues of their intention and they just left. "Our first venture and investment was in Kericho. My wife and me without a lot of knowledge in horticulture hired greenhouses and started propagation which was a successful failure. We failed amazingly," says Dr Njiru as the couple breaks into laughter. "My wife had a lot of hope in me as she knew this guy works with crops so he knows what to do. But I had no idea how to grow a good seedling especially a vegetable seedling. I would have grown a root or a tuber seedling but I didn't know how to grow others," he adds. In Kericho, they had partnered with a lady who was helping them set up the propagation unit.
After losing all their savings in Kericho, one would have expected the couple to go back to their respective careers. But they say that they took it positively and it didn't break their hearts nor deter their vision and objective of one day running and owning a robust seed propagation platform. Dr. Njiru says they took the failure positively by deciding to learn from the experience. "At Growpact we take failure very positively as we chose to learn on what we did wrong and see where we can improve on. We still do that today and it has helped us," he says.
Dr. Njiru, however, says that that didn't exonerate them from their families especially from his side who had some reservations on what he was doing. "They had this feeling that with your PhD you should be a Professor. What are you doing with gumboots over the weekend? What are you doing on the farm? Sometimes I have fertilizer on my side broadcasting with the farmers and they are like are you crazy," opines Dr. Njiru. Mercy also says at times her mother would look at her and wonder if she went to the University to take her Masters in Statistics to the shamba. But today they are all proud of them.
In early 2016 armed with only their willpower, they were looking for an investment vehicle that would help them in financing. They came across one called Agribusiness Booster which has a link to the Dutch where they got their first financing in the form of a loan. They then decided to settle at Kitale and established Growpact there and this is their third year. I pose the question to them on why they chose Kitale of all other places as it is not known for horticulture. Why not Embu their home area? Again they look at each other and laugh heartily a sign that this is a question they have answered so many times. "We have been asked that so many times to an extent of feeling maybe we are in the wrong place but we always ask why not Kitale?," asks Mercy. "There is a call of food security from the President and introduction of diversity in what we eat. We see perspectives indicating people here cannot embrace horticultural farming but we decide to be that vehicle that will take them there. So, we start small with farmers as they grow towards diversifying," she adds. Dr. Njiru supports her saying Trans-Nzoia is a prime area including the counties that surrounds it like Uasin Gishu, Bungoma, Kakamega, Busia, Kisumu, Homabay, Nandi, Kericho, West Pokot, Turkana and others in the region. He says these are the emerging horticulture markets in the future. With the frustrations that are sometimes there in maize farming, Dr. Njiru says farmers are looking for an alternative and that is why they see a big potential in the region. "We have seen farmers here who started with a hundred seedlings, a thousand seedlings and now we have seen farmers doing an acre of tomato, cabbage, capsicum and others. We want to partner with them by offering training, sometimes link them with markets and grow together," he says.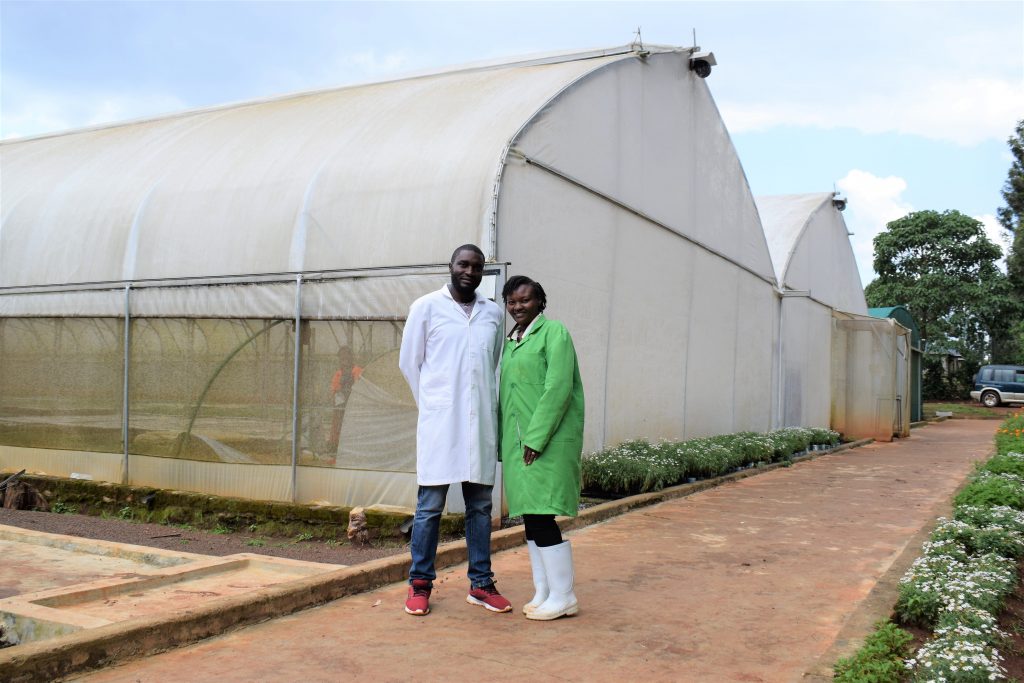 The seed propagation unit is ever busy with thousands of seedlings in various stages from planting, germination, growing in the main nursery to the hardening area. Having started with the usual tomatoes, cabbages, capsicum, spinach and others, they have now diversified to seedling propagation for fruits (grafted macadamia, avocado, tree tomato, sweet potatoes, cassava and others.
They have invested in technology and systems to ensure a smooth-running which they say Mercy with her technology background has played a big role. Dr. Njiru also has found the perfect place to continue his plant research and he is conducting various trials at the farm. He has grafted tomato for improved resistance to bacterial blight and says it is working. "I have some people who have planted it in greenhouses they had abandoned and I can refer you to them and see how well grafted tomato is doing," he says.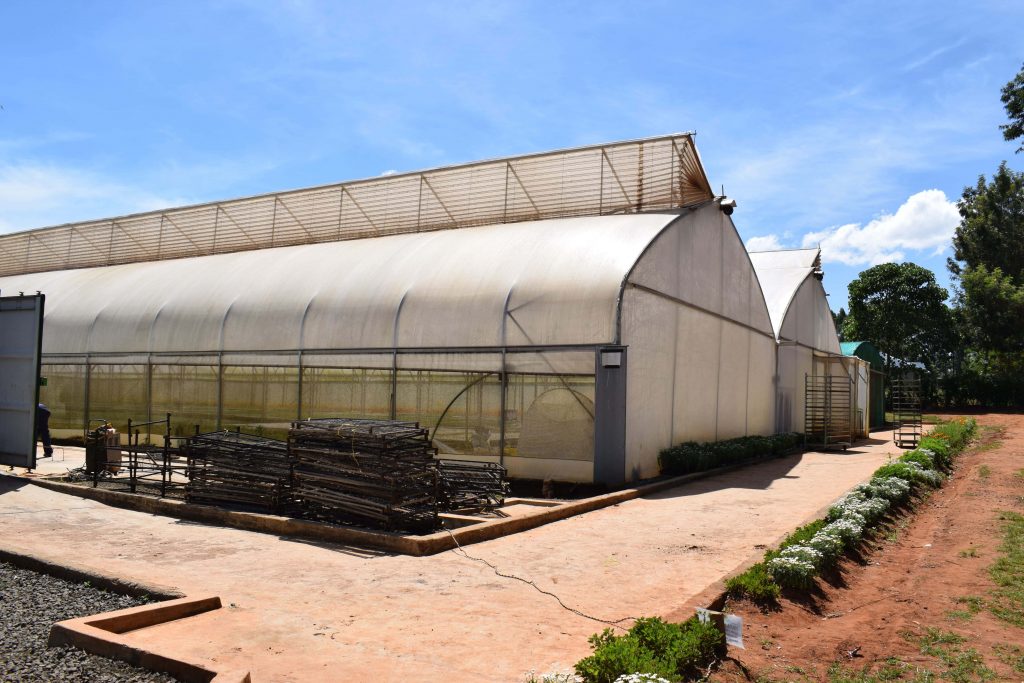 When they started, most clients were from the surrounding areas but since then they have expanded their market. "We are supplying farmers in Loitoktok, Isiolo, Meru, Laikipia especially Rumuruti, Embu, Mwea, Machakos, Makueni, Homabay, Kendubay, Siaya, Bundalangi, Bondo and many others. We also have farmers in Garissa and Msambweni in Mombasa. We have the capacity to serve them all and we send seedlings anywhere. We also sell any quantity of seedlings whether it is a hundred for small scale farmers to thousands for large scale farmers. We value small scale farmers a lot because we want to grow with them making sure they plant quality seedlings giving them maximum returns," opines Dr. Njiru.
Mercy, however, outlines various challenges that they face. "Our biggest challenge has been accessing quality seeds that farmers want. A farmer might want a particular variety but it is not in the market. Turning to the market there is that challenge to convince farmers to move from the conventional seedbeds to smart tech nurseries like Growpact but we are trying. Bringing some materials that we need into the country is also expensive and we don't want to overcharge our customers. Therefore importing the materials and trying to keep the cost of production down is also a challenge," she says.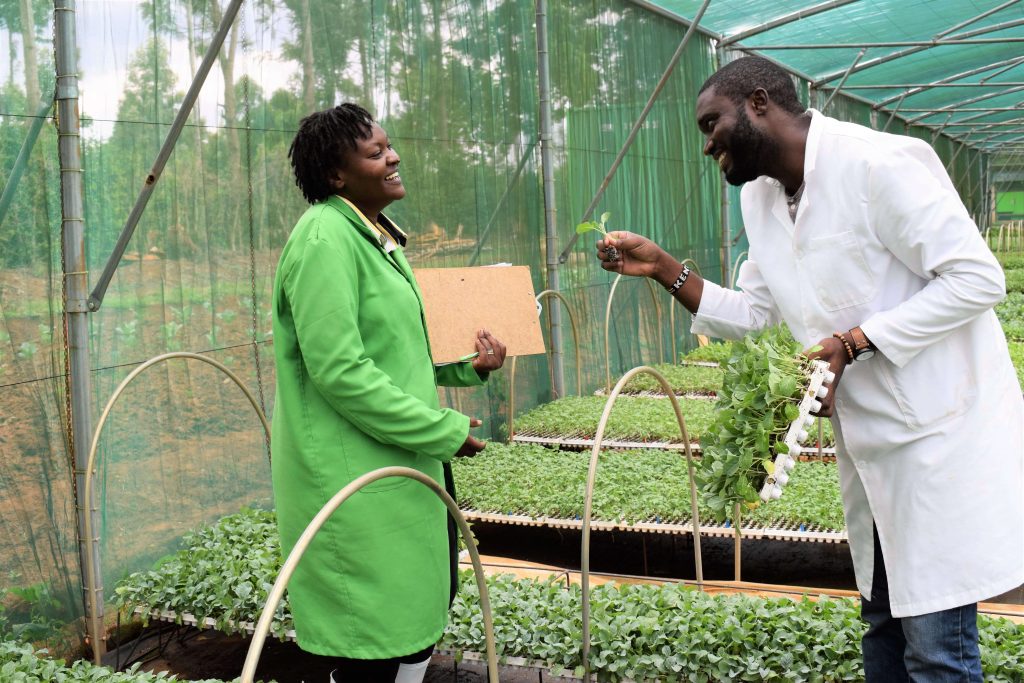 Dr. Njiru challenges the government to give incentives to agri-businesses to help in ease of doing business. "Clearing a container from the Port of Mombasa nowadays is not easy. As we are still small propagators sometimes we rely on other suppliers who import in bulk and sometimes we don't find what we want like and this affects us. The government should look into this as it impacts heavily on the food security growth pillar," says the biotechnologist.
Growpact has had a positive impact on the surrounding community as they have been visiting to learn. Every last Friday of the month, they host the Growpact Farmers Field ay where they partner with seed companies, agro-input companies and other partners to educate farmers. They have demonstration plots where farmers learn the various aspects of seed propagation and plant care from experts. The workforce numbering about twenty also come from the area hence creating employment opportunities. They have also partnered with various institutions where students come to learn, research and even get internships during their training. Some of these are University of Eldoret, Embu University, Meru University of Science & Technology and Bukura Agricultural College.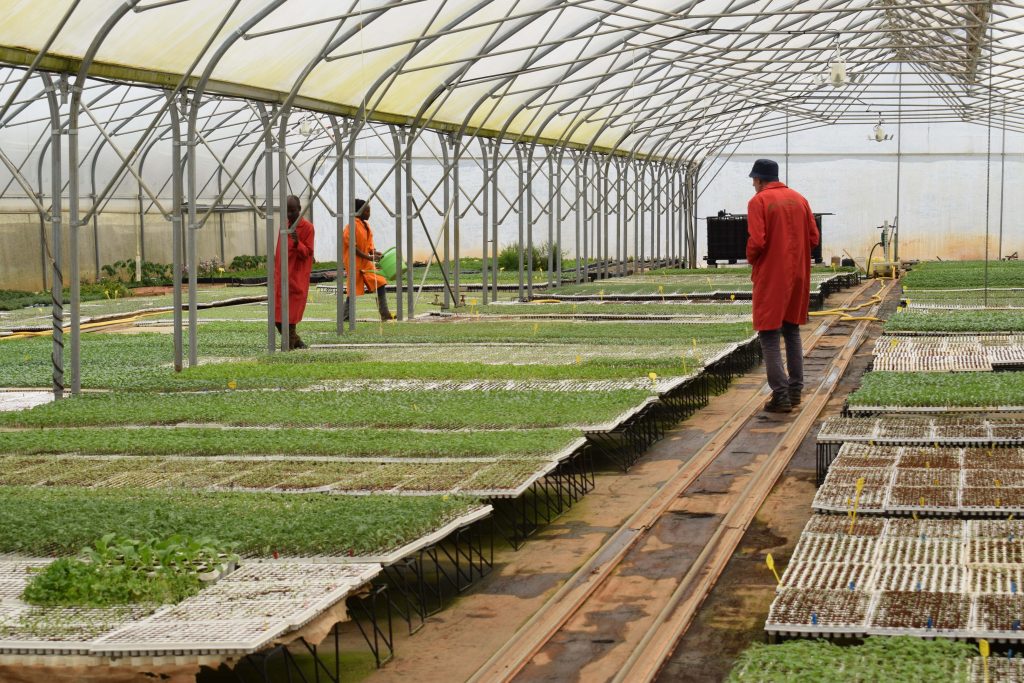 The couple agrees on one thing- that agriculture pays and advises the youth and anybody else who wants to venture in agriculture to take it up as a business and focus. Dr. Njiru sums it up with their plans. "In five years we want to have created solutions to small scale farmers as they are the most vulnerable in the value chain. We want to create a value chain that will see them have a ready market for their produce as we play our part in ensuring food security as everything in the value chain will be traceable. We also plan to in future to establish a laboratory which will be researching on all sorts of tropical plants like berries and nuts"