By Kimuri Mwangi
Kenya officially entered into the cultivation and use of the Genetically Modified Organisms (GMO) food after the Cabinet yesterday lifted the ban on the cultivation of Genetically Modified crops.
It also authorized the importation of food crops and animal feeds produced through biotechnology innovations. The decision effectively lifts restrictions on the country's cultivation and importation of GMO crops.
The decision by the Cabinet, chaired by President William Ruto at State House, was made in accordance with the recommendation of the Task Force to Review Matters Relating to Genetically Modified Foods and Food Safety. The meeting was convened to consider the progress made in the response to the ongoing drought in the country.
But what is GMO food? The World Health Organization WHO describe it as "Genetically modified (GM) foods are foods derived from organisms whose genetic material (DNA) has been modified in a way that does not occur naturally, e.g. through the introduction of a gene from a different organism. The technology is often called "modern biotechnology" or "gene technology", sometimes also "recombinant DNA technology" or "genetic engineering". Currently, available GM foods stem mostly from plants, but in the future foods derived from GM microorganisms or GM animals are likely to be introduced on the market. Most existing genetically modified crops have been developed to improve yield through the introduction of resistance to plant diseases or of increased tolerance of herbicides. GM foods can also allow for reductions in food prices through improved yields and reliability. In the future, genetic modification could be aimed at altering the nutrient content of food, reducing its allergenic potential or improving the efficiency of food production systems. All GM foods should be assessed before being allowed on the market"
Simply put in layman's language, we can liken this to taking a vehicle and modifying it to your liking to achieve a certain objective. You can increase the size of the engine to make it more powerful, you can add cooler mudguards, can install a heavier music system etc. In the same way, food is modified genetically to achieve certain parameters.
Agricultural plants are one of the most frequently cited examples of genetically modified organisms (GMOs). Scientists in support cite some benefits as increased crop yields than normal ones, reduced costs for food or drug production, reduced need for pesticides and herbicides, enhanced nutrient composition and food quality, resistance to pests and disease, greater food security, and medical benefits to the world's growing population. They have also said that efforts have been to develop crops that mature faster and tolerate aluminium, boron, salt, drought, frost, and other environmental stressors, allowing plants to grow in conditions where they might not have done well.
On the other hand, there has also been strong resistance to GMO food. In Kenya, the Cabinet on November 8th, 2012, prohibited the open cultivation of genetically modified crops and the importation of food crops and animal feeds produced through biotechnology innovations. This was after concerns were raised that there was a link to cancer. The cabinet yesterday explained that it had perused several expert and technical reports to reach the final decision. Among these is that of the Food and Agriculture Organisation (FAO), Kenya's National Biosafety Authority (NBA), the European Food Safety Authority (EFSA), the World Health Organisation (WHO) and the United States of America's Food and Drug Administration (FDA).
Scientists against GMO foods argue that modification of some foods could increase their toxicity, especially where there is no certainty involved. The other concern is allergic reactions. They argue that genetic engineering of food creates two separate and serious health risks involving allergenicity. The first is that genetic engineering can transfer allergens from foods to which people know they are allergic, to foods that they think are safe.
Another concern they raise is Antibiotic resistance. They argue that a hidden risk of GE foods is that they could make disease-causing bacteria resistant to current antibiotics, resulting in a significant increase in the spread of infections and diseases in the human population. Virtually all genetically engineered foods contain "antibiotic resistance markers" which help the producers identify whether the new genetic material has actually been transferred into the host food.
The issue of Cancer has been a big one and the conversation is still ongoing among scientists. But Loss of Nutrition is another reason cited by scientists against GMO food. They argue that Genetic engineering can also alter the nutritional value of food saying that the genetic engineering of foods could result in "undesirable alteration in the level of nutrients" of such foods. They further argue that these nutritional changes "may escape breeders' attention unless genetically engineered plants are evaluated specifically for these changes.
In Kenya, The National Biosafety Authority is the sector regulator in matters GMO. Its mandate is to exercise general supervision and control over the transfer, handling and use of genetically modified organisms with a view to ensuring the safety of human and animal health as well as the provision of an adequate level of protection of the environment. This is the body that will now be offering guidelines on the importation and growth of GMO food in the country.
The Functions of the Authority are:
Consider and determine applications for approval for the development, transfer, handling and use of genetically modified organisms, and related activities in accordance with the provisions of the Biosafety Act;
Co-ordinate, monitor and assess activities relating to the safe development, transfer, handling and use of genetically modified organisms in order to ensure that such activities do not have adverse effect on human health and the environment;
Co-ordinate research and surveys in matters relating to the safe development, transfer, handling and use of genetically modified organisms, and to collect, collate and disseminate information about the findings of such research, investigation or survey;
Identify national requirements for manpower development and capacity building in biosafety;
Advise the Government on legislative and other measures relating to the safe development, transfer, handling and use of genetically modified organisms;
Promote awareness and education among the general public in matters relating to biosafety; and
Establish and maintain a biosafety clearing house (BCH) to serve as a means through which information is made available to facilitate the exchange of scientific, technical, environmental and legal information on, and experience with, living modified organisms;
Perform any other function which is incidental to the performance of any of the foregoing functions.
But even as the restrictions were being lifted yesterday, the cabinet had on 19th December 2019 approved the commercial farming of BT cotton hybrids following the successful completion of field trials that were conducted over a period of five years. According to the government, the commercial farming of BT cotton was set to ensure farmers earn more from the crop through increased production. It will also to boost the manufacturing pillar of the Big 4 Agenda where Kenya seeks to establish itself as a regional leader in textile and apparel production.
In March 9th, 2020 Agriculture CS Peter Munya planted the first BT cotton seed at Alupe University College, Busia County. BT cotton is currently planted in 15 countries globally covering an area of 24.1 million hectares. The top three leading BT cotton producers are India (11.6 Million hectares), USA (5.06 Million Hectares) and China (2.93 Million Hectares).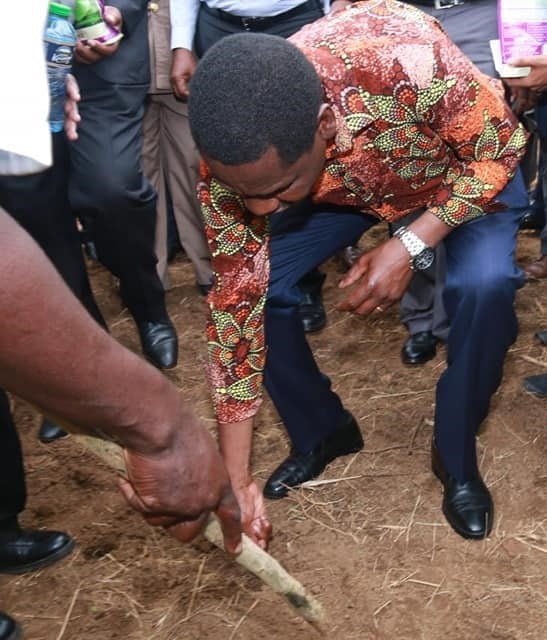 In Africa, Kenya joined South Africa, Sudan, Ethiopia, Malawi, Nigeria and ESwatini. "The global experience with BT cotton adopting countries shows that the improved variety is a viable intervention to help boost cotton production by addressing the challenges caused by pests in addition to increased yields per unit area and lower cost of production," said the Cabinet Secretary.
After launching the first BT cotton on-farm demonstration farm, the strategy according to the CS was to establish one thousand (1000) demonstration farms in the twenty-three (23) cotton growing counties for training cotton farmers prior to commercial farming. Each of the demonstration farm was to train at least 40 farmers to create a pool of at least 40,000 cotton farmers that were to form the initial catchment of BT cotton farmers in readiness for commercial BT cotton farming in the country. The target was to have over 200,000 acres under commercial BT cotton cultivation by 2022 creating over 25,000 jobs for Kenyans along the value chain.