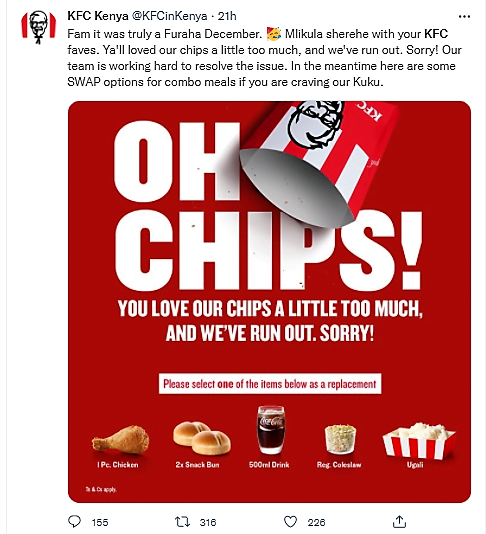 This is the tweet by Fast food chain KFC that has generated a lot of discussion on social media as the chain announced that it has suffered a shortage of potatoes at its outlets in Kenya following delays in delivery from its overseas suppliers. It is in turn offering customers alternative food items in place of chips as they are commonly known locally.
Many people took to social media to question why the chain would run out of potatoes while there are farmers suffering losses as their potatoes go to waste in the country.
KFC does not use local potatoes in making their chips citing global quality standards. They say that all suppliers need to go through the global quality analysis approval process to ensure that their food is safe for consumption therefore they cannot buy local potatoes even after supplies run out.
Since starting operations in Kenya in 2011, it is worth noting that KFC has not taken interest in ensuring that local farmers meet their standards in their more than 10 years of operations. On social media, others questioned why the government has not also taken interest in making sure that local farmers benefit from supplying potatoes to the chain and called on the cancellation of the chain's operating license.
Gatundu South Member of Parliament Moses Kuria reacting to the tweet on his Facebook account taunted Nyandarua Governor Francis Kimemia by asking if there is a Governor in Nyandarua.  "Nyandarua kunakuwanga na Governor kweli?" he posted. Nyandarua County is the biggest producer of potatoes in Kenya and most farmers in the county suffer losses due to a lack of market for their potatoes while the production is high. The legislator may be was wondering why the Governor has not been in the forefront in pushing the multinational to source potatoes locally which would benefit Nyandarua farmers.