Youth face immense challenges, reason why it is imperative to scale up youth-focused initiatives and harness their potential to reach the UN Sustainable Development Goal 2.
This was FAO Director-General QU Dongyu's main message at a panel on food security in Africa at the World Youth Forum 
"We live in a challenging time," said the FAO Director-General.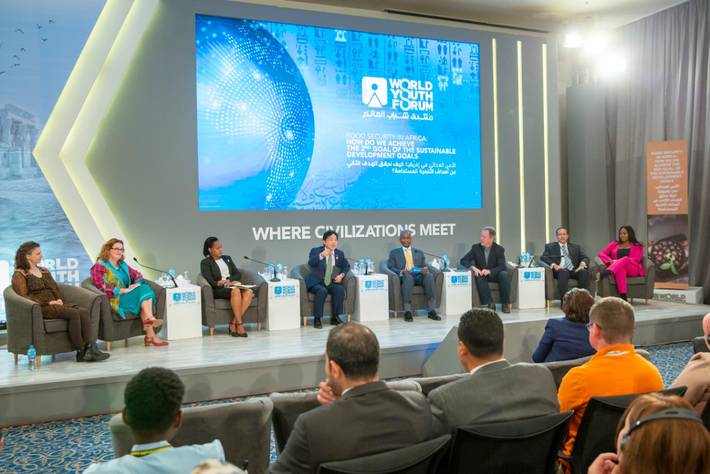 Qu went on to highlight the challenges young people in Africa and Middle East are grapping with – rising hunger and malnutrition, uptake of increasingly unhealthy diets, lack of stable jobs and income opportunities, climate change, water scarcity, and in some countries, conflict.
"But we must not feel discouraged by these challenges. There are more solutions than challenges," said the FAO chief.
"We need the energy and potential of young people to achieve rural transformation, and achieve the Sustainable Development Goal (SDG) 2," added Qu.
Failing to achieve SDG2 places reaching all SDGs at risk, stressed Qu.
Making the most of innovation, digital technology, investments, encouraging youth's greater appreciation of sustainable and healthy food systems and enhanced policies are some of the solutions mentioned by the FAO Director-General.
To this end, Qu also presented FAO's recently announced Hand-in-Hand initiative, which seeks to match donors and recipients in a more targeted way to assist the most vulnerable people and help to achieve the SDGs.
Boosting support for Egypt's youth and women
FAO and Egypt agreed on deepening their collaboration in support of the country's rural youth and women.
The FAO Director-General and Egypt's Minister of Foreign Affairs Sameh Shoukry signed the agreement on the margins of the World Youth Forum on Sunday.
Through the agreement, FAO and the Ministry will seek to roll out programmes promoting employment on and off farm and in different value chains, and providing training and capacity development for youth and women