Locust-affected countries gathered in Kenya to review the positive balance of what could have been a deadly 2019-2022 Desert Locust upsurge.
The Food and Agriculture Organization of the United Nations (FAO) convened a forum on Desert Locust management and prevention at its Forty-Second Session of the Desert Locust Control Committee (DLCC), which took place in Nairobi, Kenya from 13 to 17 March. The forum brought together locusts-affected countries, donors, and other agencies to discuss strategies for desert locust management and prevention.
The Session reviewed the achievements of the 2019-2022 Desert Locust Upsurge, providing a platform to share locust prevention and control methodologies and technologies between countries. The session provided guidance and recommendations to strengthen locust monitoring, early warning, and preparedness thanks to the participation by country representatives, FAO locust commissions and experts engaged in locust control to share their lessons learned during the latest upsurge.
"Fighting an upsurge of such magnitude was not an easy task for countries, particularly under constraints of COVID-19." said Xia Jingyuan, Director of FAO Office of Plant Protection. "I would like to emphasise that coordination and regional cooperation were crucial to succeed with the locust fight."
By providing expert advice on locust control techniques to governments and international organisations, the Committee has guided many countries to prevent and effectively manage outbreaks, especially through the International Action Plan for preventing and controlling the latest Desert Locust upsurge (2019-2022).
Why is Desert Locust's early warning and prevention crucial?
Desert locusts are among the most destructive insects in the world. They are notorious for devastating crops and pastures, and severely affecting the livelihoods of millions of people every year, particularly in Africa and Asia. They continue to pose a significant threat to food security, livelihoods, and socio-economic development in the countries of the Desert Locust range.
"I am happy that today, you are gathering here not to count losses but to share success experiences of our most recent intervention. Meetings like these help us document our interventions and learn how to improve." Said Hon. Mithika Linturi the Cabinet Secretary Ministry of Agriculture and Livestock Development, Kenya.
While thanking the DLCC for choosing Kenya to host the meeting, he also noted that Kenya has developed a Migratory and Invasive Pests and Weeds Management Strategy.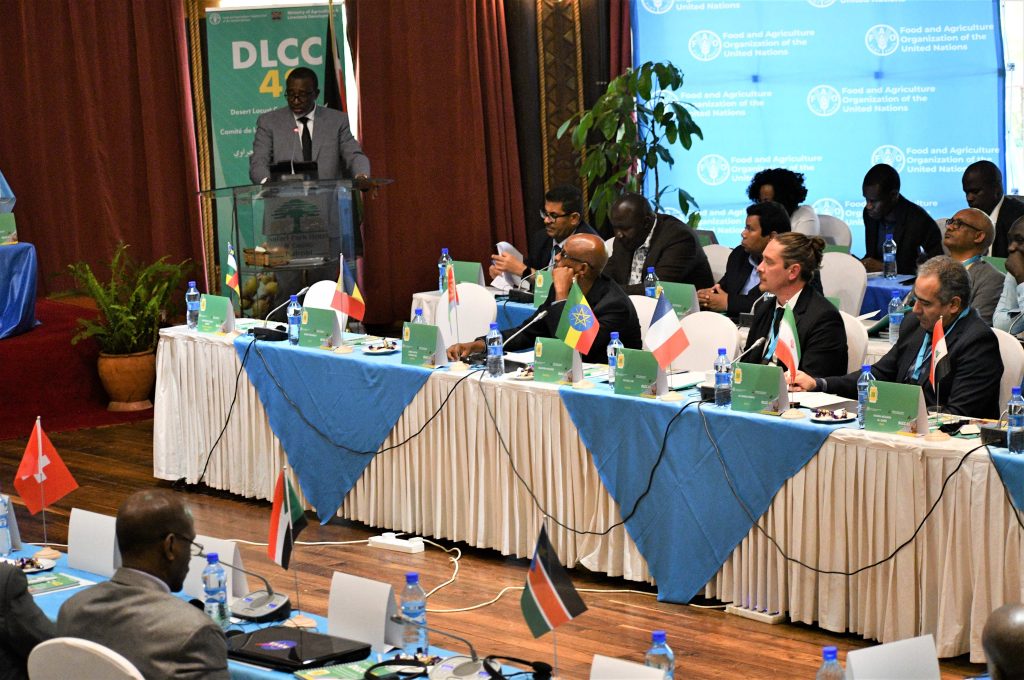 The Desert Locust is a migratory insect that spends most of its life cycle in the desert. In some years, it may migrate thousands of kilometres from its normal habitat to invade agricultural areas. It is then that it becomes a major threat to agriculture. Desert locusts have a short life cycle, so they can develop from egg to adult in as little as 35 days. This means that if conditions are favourable for breeding, large numbers of locusts can quickly emerge and migrate away from the desert.
The FAO Representative to Kenya Carla Mucavi, while welcoming the guests to Kenya, recounted the losses caused by the desert locust invasion in Kenya. She noted that the control efforts helped to cushion pastoralist livelihoods in North Eastern Kenya by surveying a total of 93, 304, 554 ha and treating 146, 526 ha. This averted losses of 11, 338 ha of crops worth USD 3.4 million.
FAO said it is striving to improve desert locust early warning, prevention, and preparedness to significantly reduce the threat posed by the insect. In recent years it has developed and implemented innovative technologies, such as satellite mapping, data crowdsourcing and drones to constantly reduce desert locust outbreaks. These measures speed up the monitoring process for breeding swarms and facilitate more accurate forecasting of their movement towards human-settled areas.
The Desert Locust Control Committee was established in 1955 as an ad hoc body to coordinate work towards Desert Locust control in potentially affected countries. The Committee advises FAO on all matters pertaining to Desert Locust and works closely with countries in implementing effective locust prevention measures.
The committee supports international research and advanced technology development on locust management. It has promoted the use of such as satellite imagery and remote sensing to detect locust plagues while advocating novel approaches to effective locust control through the use of biopesticides.