A National Livestock Vaccination Program has been launched as livestock production in Kenya is always under the threat of occurrence of a considerable number of animal diseases.
Diseases such as Rift Valley Fever (RVF), Foot and Mouth Disease (FMD), Peste des Petite Ruminants (PPR), Lumpy Skin disease (LSD), Camel Pox, Sheep and Goat Pox, Contagious Bovine Pleuropneumonia (CBPP), Contagious Caprine Pleuropneumonia (CCPP) and Brucellosis (often referred to as trans-boundary animal diseases or TADs) continue to threaten livestock in Kenya and in neighboring countries according to the Ministry of Agriculture, Livestock, Fisheries and Cooperatives.
The diseases can easily spread from one country to another. Within Kenya, TADs easily move across county boundaries, in the process reaching epidemic proportions. Nevertheless the ministry says the control or management of these diseases, including prevention of entry into a county, requires cooperation between several counties.
"TADS cause significant losses to Kenya's livestock industry, and are a drain to available resources since control measures have to be instituted by livestock producers as well as both national and county governments to combat the frequent outbreaks that occur. Specifically, TADs lower animal productivity and production. They hinder participation in international trade of livestock and livestock products while reducing local trade in live animals, meat and other animal products. This reduction in trade is brought about when measures to control disease outbreaks such as quarantine impositions and movement restrictions are instituted. Some TADs such as Rift Valley Fever, pose a direct threat to human health when they spillover to humans from animals," says Agriculture CS Peter Munya.
Munya says the country has developed strategies to control these diseases saying the strategies call for specific measures to be undertaken by stakeholders to control and eventually eradicate diseases that threaten the country's livestock population. Such measures he says includes putting into place strict movement controls, instituting proper farm biosecurity and regular vaccinations of farm animals. Since the diseases do not respect international borders, regional cooperation among neighbouring countries is also crucial to prevent spread from one country to another. This collaboration is anchored in a number of cross-border Memoranda of Understanding which Kenya has signed with its neighbours to harmonize animal disease surveillance and control activities.
"Even though vaccination to prevent animal diseases has long been advocated for, we as a country have not been conducting it as required. Vaccination of animals, as is the case with other disease control measures, is a County government function according to our constitution. In the past few years, we have seen County governments take up the task but with mixed results," says Munya
With each County independently carrying out its own disease control programme, a number of challenges seem to have arisen. These include:
• Failure to adhere to existing guidelines on disease control as spelt out in various circulars and national control strategies.
• Low prioritization of disease control by some County governments leading to inadequate budget allocation towards activities such as surveillance and vaccination.
Coupled with these challenges is the issue of uncontrolled animal movements. Livestock in the country are often moved for trade purposes or in search of water and pastures during times of drought. This movement is a major cause of disease outbreaks and therefore lack of or weak enforcement of regulations and by-laws meant to control livestock movement has often resulted in outbreaks of trans-boundary diseases.
The challenges mentioned above have been shown to result in the following outcomes as outlined by the CS:
• Counties work independently such that disease control is often uncoordinated between counties thereby not taking into account the neighboring counties' disease control programs. These counties may share animal populations that frequently move across common borders for pasture or trade.
• Very few animals end up being vaccinated thereby resulting in a low percentage of vaccination coverage and poor protection of livestock from disease. This leaves a majority of the animals which comprise the national herd, still susceptible to diseases.
"The overall effect is that we are now seeing a rise in transmission of diseases such as FMD to disease free areas by animals that are being moved for trade or in search of pastures. Disease outbreaks are also occurring with increasing frequency in counties that are not implementing disease control programs. Thereafter, we have noted that the disease outbreaks spillover to counties that are carrying out control measures, thereby hindering their progress towards creating disease-free zones. No County government can undertake successful disease control unless they allocate sufficient funding towards the livestock sector. I therefore call upon county governments to put more funds towards controlling animal diseases," says Munya.
The CS calls for a start of a focused, coordinated approach by all county governments aimed at getting rid of this major drawback to livestock production in Kenya.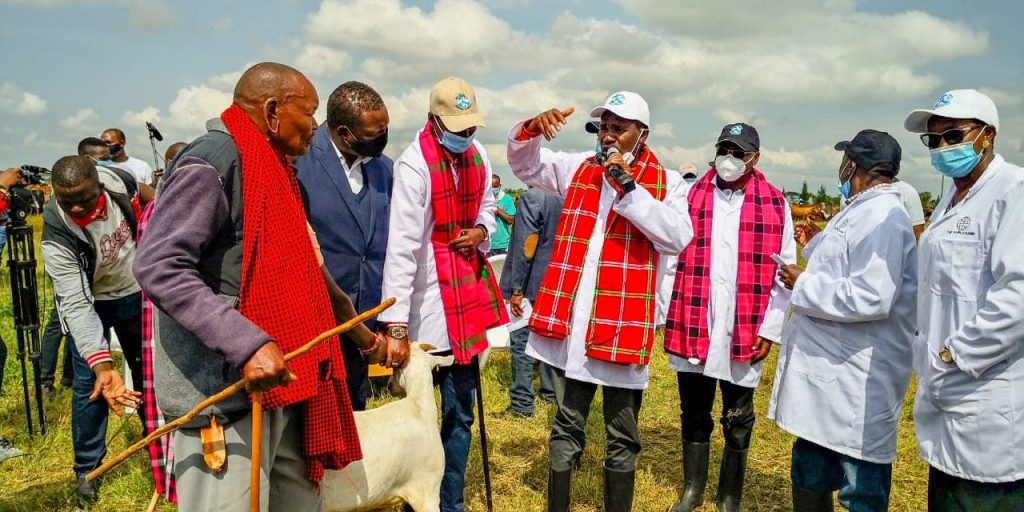 "It is as a result of the poor performance that we are experiencing with regard to vaccinating our national livestock population, that I have decided that we launch a national vaccination program. Having consulted with county governments, we have organized for today's event to signal the start of vaccination activities in all counties. I wish to acknowledge our partners who have all along supported animal health programs in Kenya. I take this opportunity to thank the World Bank supported projects of Regional Pastoral Livelihoods Resilience Project and the Kenya Climate Smart Agricultural Project for the support they have given a number of County Governments in carrying out animal health activities. I also wish to acknowledge the Food and Agriculture organization for their continued support to our livestock sector. Finally, I wish to thank all those who came out today to participate in this launch of the National Livestock Vaccination Program.," said the CS in Kajiado.