The Government of Kenya has called for good agricultural practices that will foster the realization of safe food production and consumption in the country.
Through the Cabinet Secretary for Agriculture and Livestock Development Mithika Linturi, the government has said that Kenya remains at the forefront in adopting technologies that improve efficiencies in farm operations.
In his remarks, read by the Principal Secretary, State Department for Livestock Development Harry Kimtai during the GLOBALGAP TOURSTOP in Nairobi, the CS said that the government continues to run exchange programs with multiple countries in an effort to learn from the best through the adoption of best practices through partnerships, in areas such as irrigation systems, pest control, and natural resource management.
He also hailed GLOBALGAP as one of the most sought-after standards in the international markets. "Kenya takes pride in having the most certifications on GLOBALGAP in Africa, the certification scheme provides an opportunity for Kenyan farmers and exporters to meet the high standards required for the global market," he said.
"Our research institutions that include the Kenya Agricultural and Livestock Research Organization (KALRO) continue to generate practical affordable solutions on good agricultural practices for our farmers," he added.
He also noted the importance of production standards that are required by global buyers with an emphasis on food safety, and social accountability, driven by regulatory changes in the main markets as well as by the need to manage reputational risk in the face of increasing consumer awareness and concern. These standards are extending to target the environment and sustainable production in a far more comprehensive way according to the CS.
"These trends require that the Kenyan farmers, exporters and public sector institutions from the production and regulatory infrastructure be increasingly flexible and dynamic in responding to what is a highly diverse market, addressing sanitary and phytosanitary (SPS) challenges cost-effectively and raising quality standards, among other adaptations."
The Chairperson of the Standing Committee of Trade Industry and Tourism in the Senate, Senator Senki Lenku Ole Kenar appreciated the efforts being put in place for safe food production for the local and international markets noting that as a legislative body, they will support these efforts by ensuring all bills in the parliament aligned to food safety will be pushed to become law.
Kenya tops the list of countries in Africa in having the most certifications on GLOBALGAP to meet market requirements, both voluntary and technical standards that are a key aspect of trade.
The GLOBALG.A.P. Managing Director Dr Kristian Moller, noted that Kenya is a role model of good agricultural practices and certification in Africa and as an early adopter, the country has managed to penetrate the European Union and other markets around the world.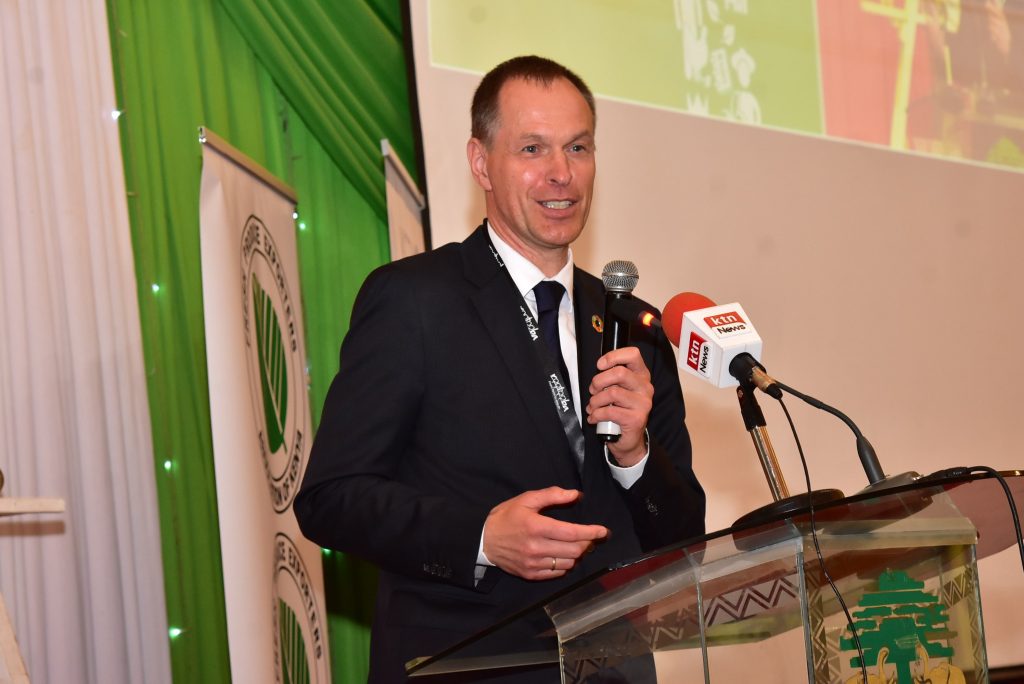 "The free trade agreement by the African Union is now the opportunity for other countries to learn from Kenya and that is why we are here. Our message is that we all need to lift food safety even higher because we want to eradicate health issues like malnutrition because of food, that is our obligation and farmers need that support" he said.
He added that farmers around the world want to produce food safely and responsibly noting that farming is an intensive job "we are here to ensure that these farming practices make sense to farmers and in the end have food safety," said Dr Moeller.
Organised by Rootooba and partners, the event culminated with site visits where participants will got an opportunity to experience first hand enterprises with a proven record of best practices in production and handling operations that are compliant with GOLBALG.AP. and other international standards. Among these enterprises include Mitchell Cotts, Plantech, Kenya Agricultural Livestock and Research Organisation (KALRO)- Thika Horticultural Research Institute (HRI), Cropnuts Laboratories and Kakuzi Plc.
The conference brought together an array of industry leaders that includes development partners led by USAID implementing partners and sector associations who all spoke in one voice in the adoption of good agricultural practices for safe food production and consumption.
The conference was the second edition of the GLOBALG.AP. TourStop with the first one having been held in 2019.
Being an annual event, the tourstop is part of GLOBALG.A.P.'s campaign to engage leading stakeholders around the globe with an aim to unite them build a common purpose of creating private sector incetives for agricultural producers worldwide to adopt safe and sustainable agricultural practices. Due to their unique setting, the tourstops provide an excellent opportunity for all stakeholders in the supply chain to learn firsthand from GLOBALG.A.P. experts and other key industry and market players.
GLOBALG.A.P. is a brand of smart farm assurance solutions developed by FoodPLUS GmbH in Cologne, Germany, with cooperation from producers, retailers, and other stakeholders from across the food industry. These solutions include a range of standards for safe, socially and environmentally responsible farming practices. The most widely used GLOBALG.A.P. standard is IFA, applicable to fruit and vegetables, aquaculture, floriculture, livestock, and more. This standard also forms the basis for the GGN label: the consumer label for certified, responsible farming and transparency.
The GLOBALG.A.P. brand began its journey as EUREPGAP in 1997. Twenty-six years later, over 200,000 producers have GLOBALG.A.P. certification in 134 countries.