The National government has stepped up plans to revive cotton production in the country. Cotton grows on very marginal soils and dry zones so it is a good income for smallholder farmers in those areas.
Kenya has been underperforming in cotton production largely due to a lack of adoption of high-yielding varieties. The varieties farmers have been growing have a yield of about 350 kgs per acre which is loss-making to the farmers hence many farmers abandoned the crop.
Another reason is the collapse of farmer organizations hence farmers are unable to benefit from cotton seed cake and cotton oil. The collapse of extension services also meant that farmers are not supported to produce this delicate crop.
The government is using the bottom approach by using the information that farmers gave during the county economic forums. The government is also promoting the use of hybrid and BT Cotton which is high yielding. The farmers are being organized into ward Cooperatives to ensure they benefit from cotton seed cake and oil where the cooperatives and county governments will be supported to employ up to 10 Technical Assistants (agricultural extension officers) per Ward to train and support farmers in cotton production.
For the market, Rivatex is already signing purchase agreements with cooperatives enabling farmers to know how much they will earn before even planting.
According to an expert in cotton growing, the total cost of producing one acre is Kshs 39,100. At a conservative yield of 900 kgs per acre (that many farmers even in Busia said they had achieved) and at a price of Kshs 57, a return of Kshs 51300 is realized meaning farmers can earn Kshs 12,200 at a span of 3-4 months. With cooperatives, they can earn an additional 19,800 per acre from cotton seed cake.
Cotton produces a cotton boll (cotton lint and seed) which is what is harvested by farmers and paid for at the farm gate. The projection of 900kgs per acre refers to the cotton boll.
After harvesting, it is then taken to a ginnery where cotton lint is separated from the seeds. Lint comprises one-third of the boll weight meaning from 900 kgs you get 300 kgs of lint and 600 kgs of seeds. The seed is then crushed and oil extracted which is 12% and the cake 88%. Cotton seed cake is sold at about Kshs 35 per kg and oil at about Kshs 165 per kg/litre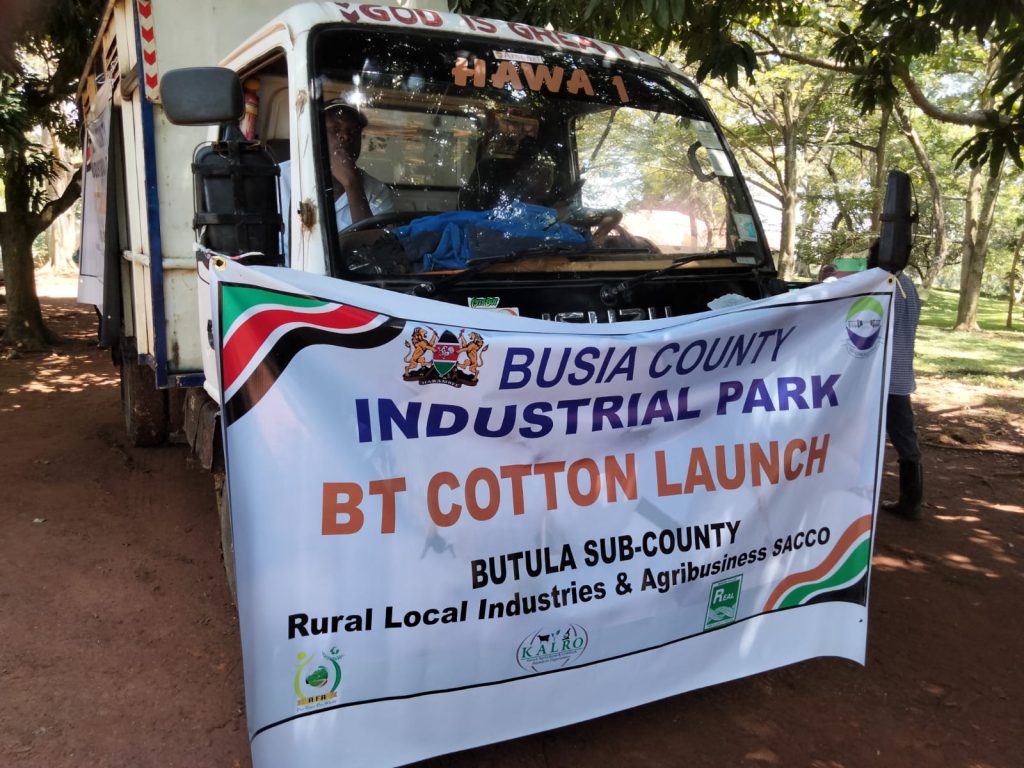 The County government of Busia has received 17 tonnes of certified Bt cotton seeds from the National Government that will be distributed to farmers across the county. Phase One of this project which is still at the piloting stage will target at least 11,253 acres in 11 wards and later up-scaled to cover more than 42,000 acres. The variety supplied to Busia farmers can yield up to 1500 kgs per acre.
82,000 bags of fertilizer have been delivered to the Malaba NCPB depot, for disbursement to farmers growing Bt cotton. Bt cotton seeds will be issued to farmers in the county using the e-vouchers system where 2,000 cotton farmers have been registered.
An engagement between cotton farmers and agricultural officers from both the county and the national government is taking place at the Agricultural Training College in Busia town to ensure the project takes off smoothly.