Nyandarua County today inched closer to getting its first potato cold storage and processing facility after the national government fulfilled its commitment to start construction by the end of this month (June).
Today the site where the factory will be constructed was handed over to the contractor by the Chief Administrative Secretary (CAS) in the Ministry of Industry, Trade and Enterprise Development Lawrence Karanja and his Principal Secretary Amb. Johnson Weru during a ceremony in Ol'Kalou this which was also attended by Governor Francis Kimemia.
The commencement fulfils a pledge by President Uhuru Kenyatta made to Governor Kimemia and County residents when he led a groundbreaking ceremony for the facility on January 31, 2020. The construction of the facility is expected to take a maximum of 90 days.
Thanking the President, Governor Kimemia noted that the facility will assist farmers to add value to their potatoes and help create jobs for the youth in Nyandarua and the wider region.
"Once complete, this facility will have a storage capacity of 10,000 metric tonnes, meaning that our potato farmers will not have to sell their potatoes immediately after harvest but will have somewhere to store their potatoes until they can fetch the best prices," said Kimemia
The Governor added that farmers have for long been exploited by middlemen who offer poor prices for their harvest and also used to package them in distended bags known as "kata nyoka bila sumu".
"My Administration, together with other Governors from potato-growing Counties lobbied the National Government and the Crops (Irish Potatoes) Regulations 2019 were enacted that capped all potato packaging in the Country at 50 kilograms, bringing to an end an era of exploitation of farmers by brokers and middlemen," opined the Governor.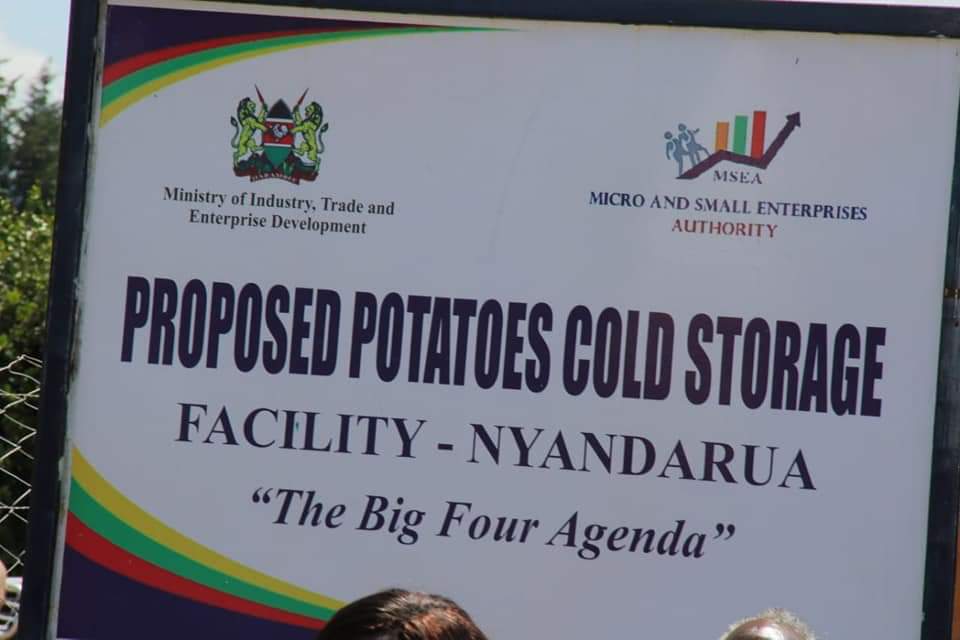 Kimemia said that the President had promised Nyandarua two more Potato Cold Storage Plants: one at Shamata in Ndaragwa and another at Ndunyu Njeru in North Kinangop. They had also requested for an intervention from the National Government to help resolve the Midlands Ltd ownership issues so that it can serve Nyandarua South. It is situated in Njabini over 70KMs from Ol'Kalou.
CAS Karanja and Amb. Weru promised to help establish a crops laboratory in Nyandarua that will certify produce from the County to facilitate farmers' access into international markets, particularly the European Union.