By Henry Kinyua
Coffee in Kenya is traded using two methods – auction at the Nairobi Coffee Exchange (NCE) or through direct sales (private treaties). Over 80% of all coffee is sold through NCE so it is important to learn a bit about this auction.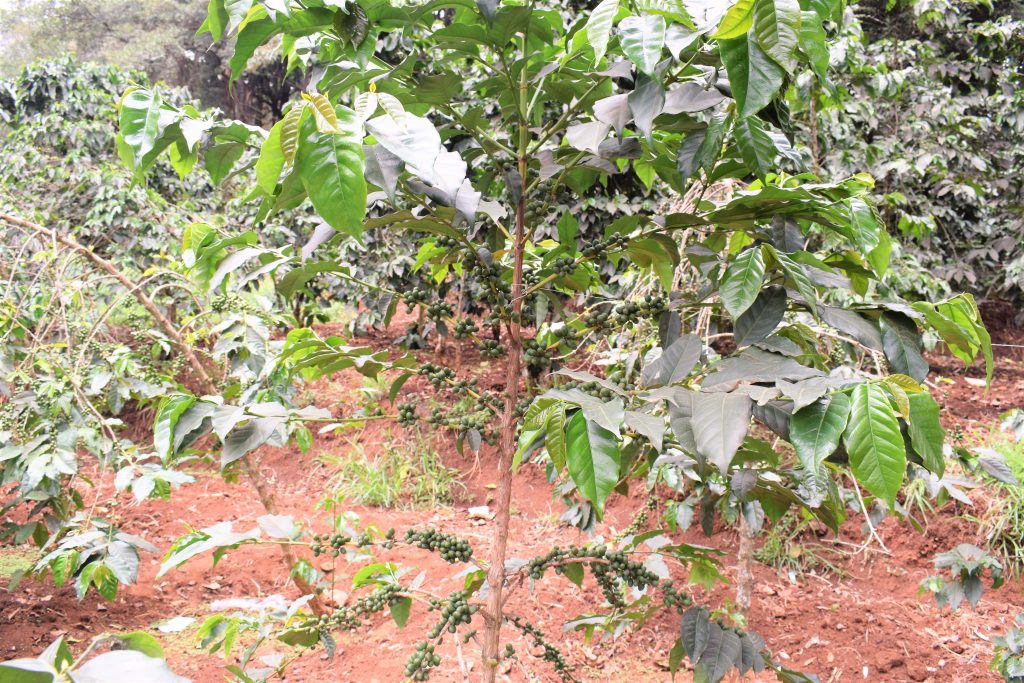 The auction hall is situated on the 2nd Floor of Wakulima House/KPCU building along Haile Selassie Avenue near Wakulima Market in Nairobi. The building though old is clean when you get inside and it is a good place to do business.  There is ample parking but the street below seems to have been forgotten by local authorities, hopefully the Airforce General now in charge of the city will visit that side and fix it. Back the auction, it happens on Tuesdays and it is open to the public so I encourage those interested in coffee matters to pay the place a visit.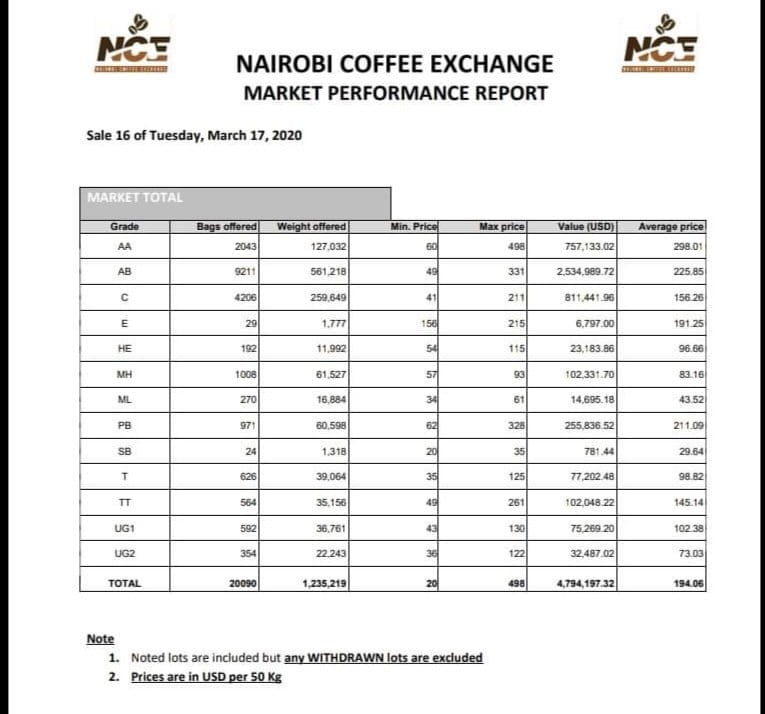 Coffee is traded in 50kg bags and the price offered is in US Dollars. Coffee traded there is in green beans form so if you want to relate the auction price to the farm gate price you can divide by 7 to get the equivalent price for cherry.
This week on March 17th the Auction traded 20,090 bags or 1,235 tons of coffee valued at $4,794,197.32 which is equivalent to about Kshs. 479 Million. The maximum price paid for grade AA was $498 per 50kg bag or equivalent which if you use the calculation above is about Kshs 147 per Kg of cherry.
Several studies show that in Kenya, farmers on average receive 68% of the market price. So, if we use this then money that can go direct to farmers' pocket is about Kshs. 97 per kg. However, grade AA is around 10% of the lot, and this auction was not an exemption. Out of the 20,090 bags traded, only 2,043 bags were grade AA.
Who bought the coffee?
First you must be licensed by the Coffee Directorate formerly known as the Coffee Board of Kenya as a dealer in order to buy at the auction. So not everyone from the street can go and buy one bag for home consumption. On 17th March 21 buyers bought coffee in various lots from NCE. Data from NCE shows that 6 buyers normally control over 75% of the market.
For example on this day Ibero (K) Ltd bought the highest amount which was 5,300 bags followed by C.Dormans 3,544 bags, East Africa Gourment 2,513 bags, Kenyacof Limited 2,163 bags, Taylor Winch Coffee 1,863bags and Sasini 1,780 bags.
On the other hand, Kenya Cooperative Coffee Dealers, Kafe Koko and Ikawa Coffee bought the lowest amount of coffee at 25, 32 and 77 bags respectively.
So what was unique with coffee that received the highest price?
In total 240 bags of grade AA were bought at $400 and above. Coffee was from Guama, Karumandi, Wanjengi, Tegu, Ragati, Kivutiri, Githaiti and Mwiria. Most of the coffee had one or two of the major certifications:- Rainforest Alliance, Fair Trade or UTZ. See the table below.

This might look like a good price but it would be misleading if we leave it at that. So if only 214 out of 20,090 bags attracted a price of above $400 per bag how did the rest fair?
Majority of coffee traded attracted less than $300. The average price for all coffee traded was $194 per bag.
| | |
| --- | --- |
| Price per bag ($) | Number of bags |
| 400 and above | 214 |
| 300-399 | 1620 |
| 200-299 | 7540 |
| 100-199 | 8201 |
| below 100 | 2515 |
| Total | 20090 |
In summary, it appears quality and certification are still attracting high prices in the auction. So farmers who have invested in their farms to produce quality coffee are receiving higher prices at the market.
However, in general the price is not good for farmers .Going with the average price of $194 per bag or
Kshs. 19,400 per 50kg bag or Kshs. 388 per kilo of green beans equivalent to Kshs. 55 per Kilo of cherry translates to about Kshs. 38 going into the pocket of the farmer. This is way below the cost of production.