Small-scale farmers face numerous challenges, such as limited access to financial resources, inadequate infrastructure, outdated farming practices and lack of market for their produce among others.
Lack of financial resources impacts negatively on small-scale farmers as they cannot expand their farming ventures and often incur losses since they can't afford inputs like fertilizer and essential services like extension services. Banks and other financiers often refer to smallholder farmers as high-risk clients, denying them loans or giving them tough conditions to meet to be considered.
Agri FinTech operates at the intersection of agriculture and financial technology. Basically, this particular segment of financial technologies applies to financing, marketing and logistic solutions implemented within the agricultural industry.
Imfuyo, an Agri Fin Tech startup in Kenya is using this model to assist small-scale farmers in Kirinyaga in the goat-rearing value chain. They first brought the farmers together and for four months they deliberated on what would be the best option for the farmers to invest in. They weighed in on the operating costs of rearing poultry, pigs and goats and finally settled on dairy goat rearing.
Imfuyo then assisted the farmers to form a group which was registered by the relevant government ministry. The initial members were 45 but the number keeps on increasing. Muthegi Farmers Group was then born in Kagio, Kirinyaga County. They then exposed the farmers to their partners like the Dairy Goat Association of Kenya and financiers. The farmers were educated on goat breeds, nutrition, and health requirements like treatment, immunization etc. They were also taken through financial literacy training that enabled them to be ready to access financial assistance.
The purpose of this is de-risking the model which also includes having the group use the financial guarantor model where they guarantee each other. This makes the farmers attractive to the financiers who see them as credit worth unlike when the farmers approach them individually.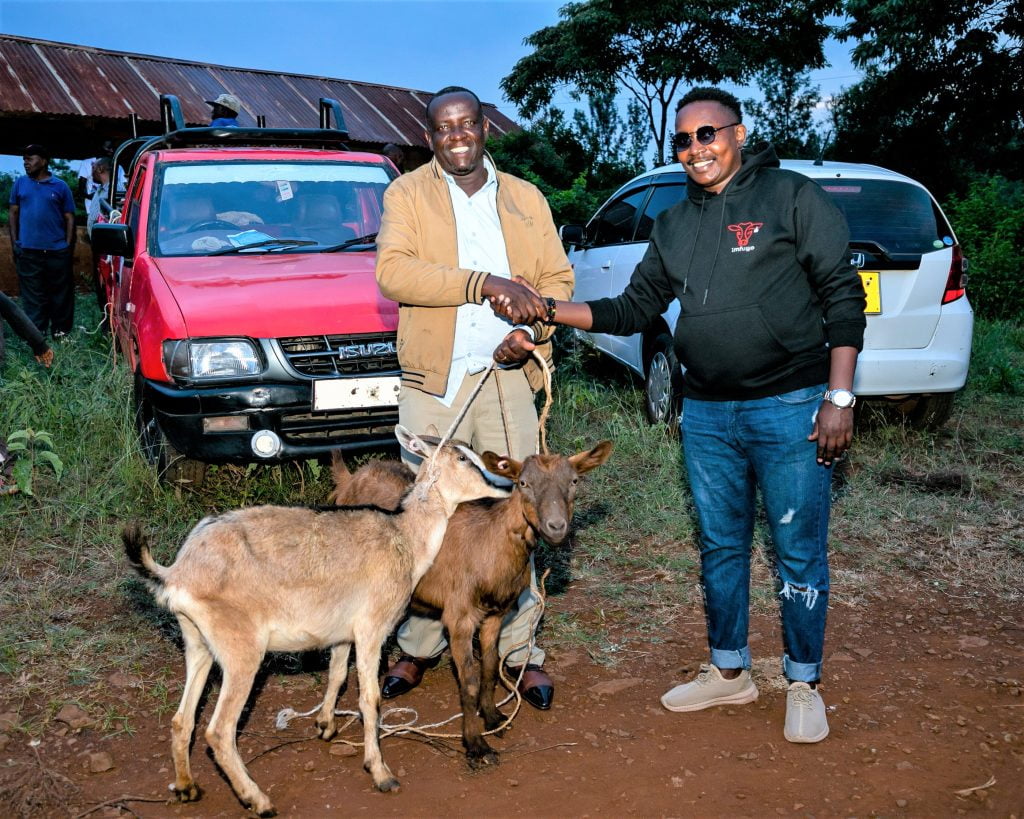 Farmers receiving their goats from Imfuyo CEO Bernard Njathi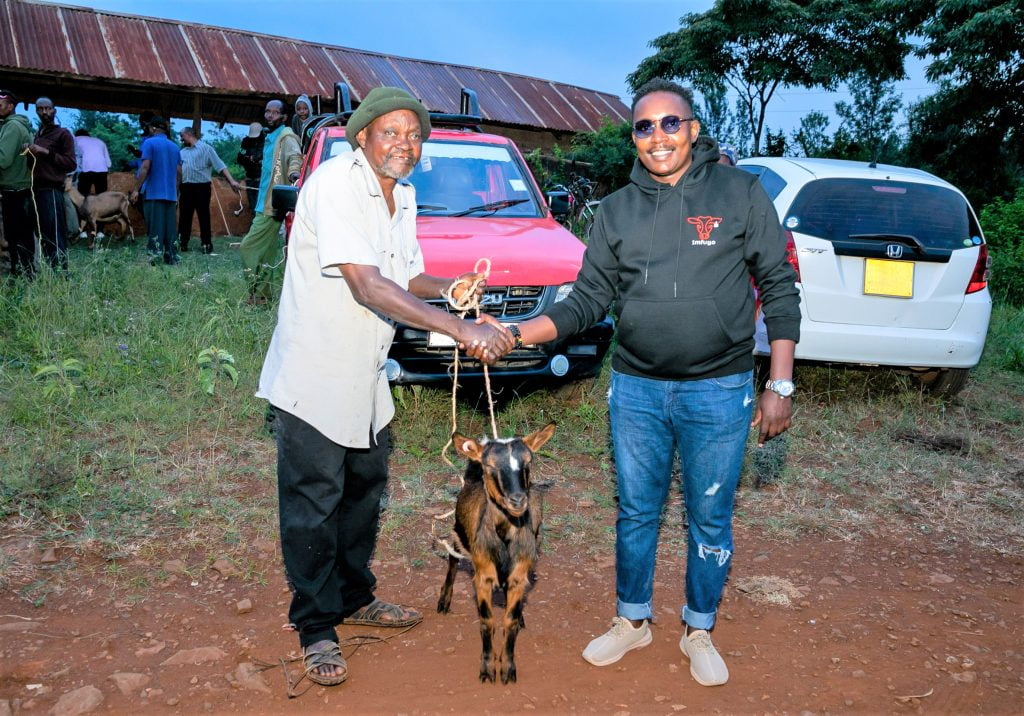 After getting the funds Imfuyo assisted the farmers in searching for the best dairy goats a journey that took them to Machakos, Nairobi, Kiambu, Nyeri and Kirinyaga counties. 32 goats were bought and the start-up bought for group two he goats to enable natural breeding. By this time the farmers had built goat structures at their cost using a model that Imfuyo showed them which had the required specifications and requirements. The goats were then tagged, valued and insured.
It has been three months now and 10 goats are producing a litre of milk each daily with the farmer earning a dollar if they sell the milk. Those who decide to consume the milk from their goat, therefore, save a dollar that they could have used to buy milk.
Milk production is expected to increase as there are two veterinary officers working with the farmers advising on the best practices in animal husbandry and offering treatment and immunization services. They also assist the farmers in keeping records and they record data of the farmers and all goats.
"We are determined to help farmers in a group setting to unlock financial assistance and unlock better livelihoods," says Bernard Njathi the CEO of Imfuyo. He adds that if a farmer manages to get 4 litres of milk daily earning about 4 dollars and the monthly loan payment is about 3.52 dollars means that the farmer is benefiting from the venture. "In doing so we are trying to bridge the gap of financial inclusion for farmers by making sure we are leveraging on our architecture which is an Agri Fin Tech model where we take advantage of agriculture, financial services and also technology," he adds.
Some of the challenges they have encountered include getting good animal breeds in good health, price negotiations with the sellers to match the budget and the logistics of moving the animals from five counties to the farmers.
James Mwangi a member of the group says the training he received has been very helpful and bringing them together and enabling them to get finances for the goat venture has really uplifted their lives as small-scale farmers.