Covid-19 aka Corona virus seems not to have stopped the smell of Coffee in the corridors of Wakulima House, specifically at the Nairobi Coffee Exchange. Therefore, on 24th March 2020 (yesterday) sale number 17 continued as usual. I didn't attend, but I know there is always enough room to observe social distancing.
Let's now look at how the sale went down. In total, 17 buyers participated and just like last week six companies bought 83% of the coffee that was presented.
Ibero Kenya Limited bought the highest amount at 3,958 bags, Taylor Winch coffee 3,342 bags, C.Dormans Ltd 2,476 bags, Kenyacof Ltd 2,283 bags, Diamond Coffee Co. Ltd 1,322 bags and Servicoff Limited completed tier one buyers by buying 1,097 bags.
With regard to price, the highest amount paid for a grade AA 50 kg bag is $465 which is lower than last week where the highest price was $498. Of the 17,458 bags traded, only 419 received a price of 400 and above representing only 2% of the volume traded. Majority of volume traded, 43% or 7,547 bags attracted a price of between $100-$199 (see table below)

So clearly the market again offered a price that we agreed last week cannot keep any farmer in business.
With regard to quality, most coffee that received the highest price of 400 and above just like last week was from societies and farms that are certified. It is important to note that smallholder societies were well represented in this tier with the highest price paid for coffee from Kianjogu.
Others included Kangocho, Kamoko, Rung'eto, Kabare, Igambe, Kiamabara among others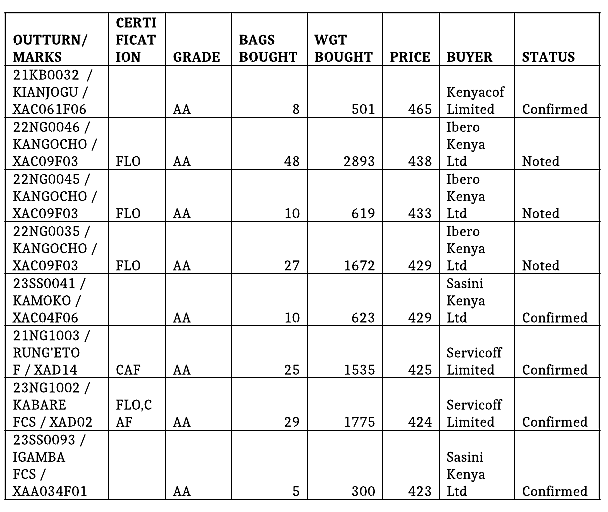 Additionally, I noted that although 20,898 bags were placed in the auction only 17,458 bags were bought. And even those traded, only a sale of 6,199 bags was confirmed. The rest 11,260 or 64% of what was placed in the market ended the day with a 'NOTED' status. What does this mean?
As I explained last week, only licensed dealers can place coffee in the auction on behalf of coffee owners. Typically some have a reserve price in mind or one they have agreed with the coffee owners on their price expectation. When the price offered meets their expectations the deal is confirmed, however if the price offered is below their expectations, they can withdraw their coffee. Also if the price offered is lower than expectation but somehow reasonable where they need to consult more, they report it as 'NOTED'.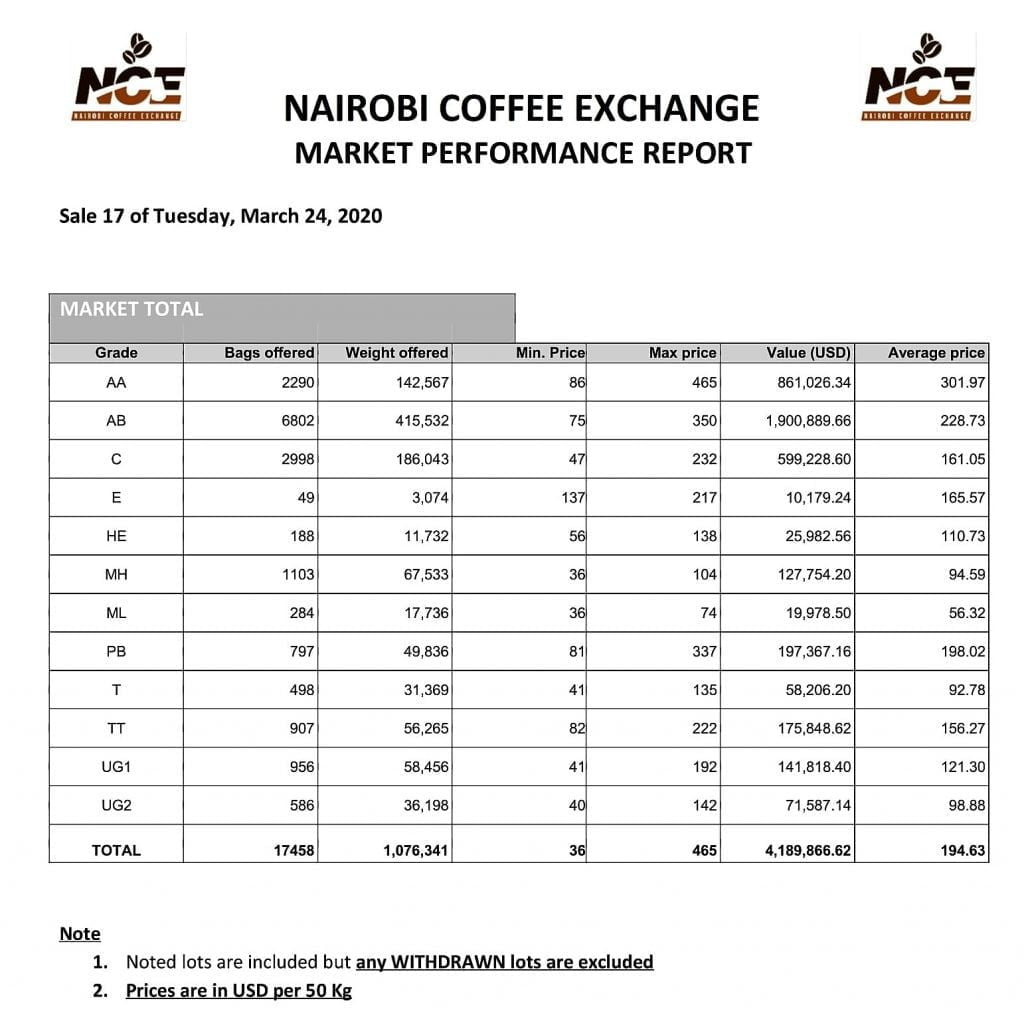 In summary trade was much suppressed from both quality traded and value of the market. Maybe stakeholders should consider delaying this market during this period of social distancing.
NB: A mug of coffee is not harmful as we practice social distancing.