By Kimuri Mwangi
Ruguru Ward in Mathira Constituency in Nyeri County is the home of Deputy President Rigathi Gachagua. It is also the home of Mathira North Cooperative Society. The Cooperative today is associated with the pain of coffee farmers who had come together through their five factories. The farmers blame the management as their coffee became a source of problems instead of becoming a source of income. At one point, the farmers gave up and the coffee factories were shut down.
Farmers from one of the factories, Ruui Ruiru, decided to open their factory and sell their coffee, hoping the situation would improve. But the situation had gotten out of hand as most farmers had abandoned their coffee while others had cut it down. Those who were extremely disappointed uprooted their coffee trees. The remaining farmers resulted to selling their coffee to brokers who bought them at a throw-away price. Eventually, the factory was closed for the second time, this time, they had lost all hope.
Charles Maina sums it up "The factories closed because the farmers were not getting anything after their hard work. Farmers stopped delivering their coffee and brokers moved around buying from them. From there we became poor and desperate and problems started as we could not afford school fees and medical bills became a burden,"
Perhaps it is the suffering of coffee farmers from his backyard that made the Deputy President so passionate about coffee issues. President Ruto later placed the Coffee Reforms Initiative under him and he declared war on cartels that take advantage of farmers.
Back to Ruui Ruiru, Maina says that they still felt that there was something that could be done as coffee was the main income for most people in the area. Around 2019, the New Kenya Planters Co-operative Union (New KPCU) was formed. "A friend introduced us to the then Chairman Henry Kinyua who listened to us and we agreed to call a farmer's meeting. During the meeting, he introduced us to Crowd Farm Africa Ltd. which had come up with a new concept of Natural Coffee Processing," says Maina.
Samuel Wachieni from Crowd Farm Africa Ltd explained to the farmers the process of Natural coffee processing and a deal was reached. It is this deal that returned the sweet coffee millions to Ruui Ruiru and for the last three years, they have been celebrating.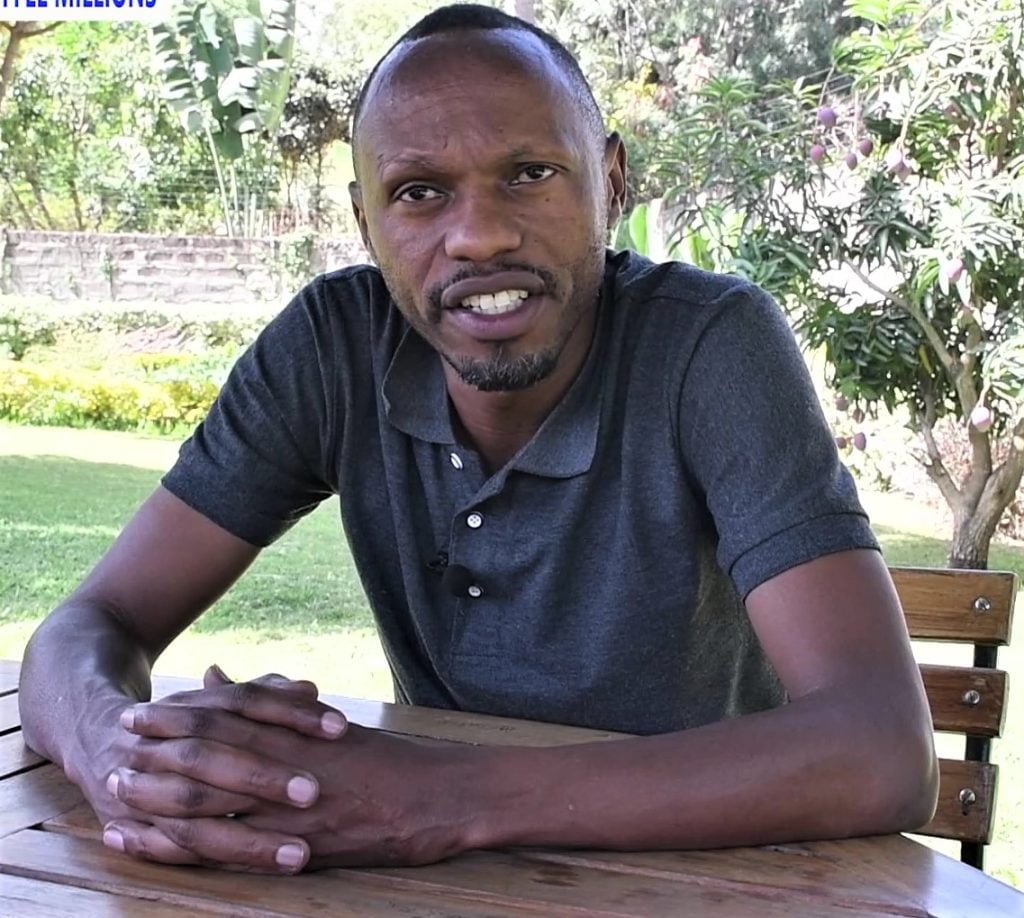 "Crowd Farm Africa Ltd is an indigenous Kenyan Company and we have been in the coffee sector for the last seven years. We have several projects but the Ruui Ruiru one is special to us. This is because it was our strategy to revive a collapsed coffee factory and the first such project in Kenya. In 2020 some farmers approached the former New KPCU Chairman Henry Kinyua and New KPCU approached us and told us to brainstorm on how we could collaborate to revive the factory which was completely closed. The pulping station was dead, the drying beds had collapsed and basically, it was a bush. We held several meetings to look into the most cost-effective way for the farmers and us to revive it," opines Wachieni.
Wachieni says they settled on Natural Coffee Processing as it is easy. First, you don't need a pulping station, and you don't need water so it is environmentally friendly. It is also not labour intensive as you dry cherries as they come from the farm. He adds that if you do it right you also get a good cup which is very popular with some roasters in the international market.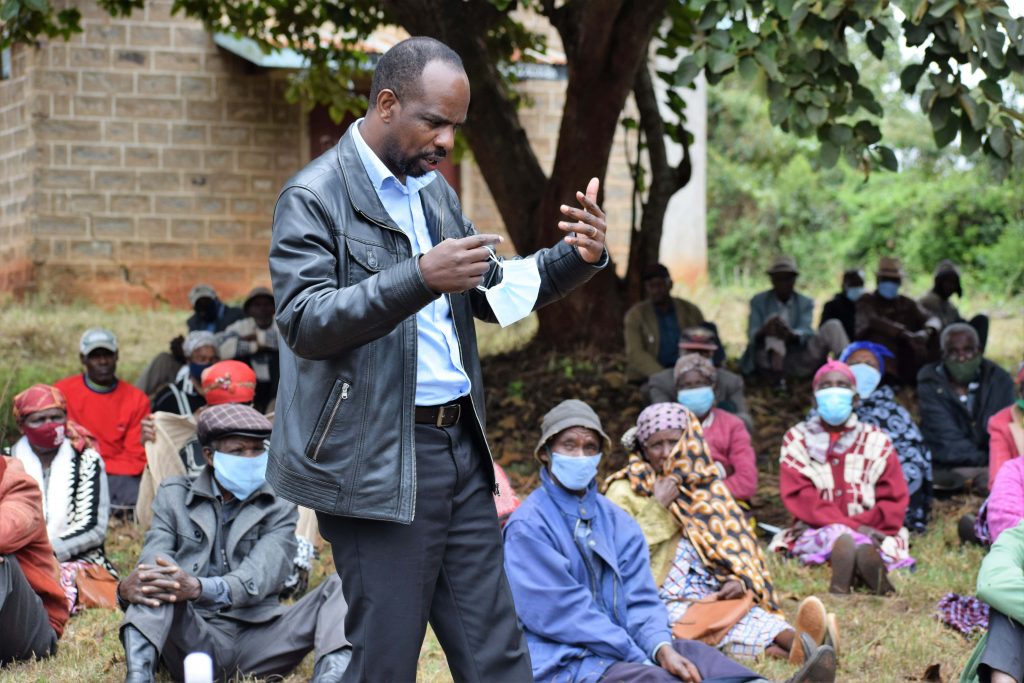 "So, the arrangement was that the farmers deliver the coffee and do the drying, New KPCU would provide milling and warehouse services while Crowd Farm Africa would buy the coffee for export. A contract was needed before we took the coffee which was risky on our side as this was a pilot programme and finally, we signed one between us, New KPCU and the farmers," opines Wachieni.
One unique aspect of that meeting is that they agreed that the coffee will be bought at Kshs. 70 per kilo with Kshs 5 to be used to run the factory. Therefore, the farmers knew what to expect depending on the quantity delivered.
After clearing bushes and recalling workers in the factory, 200 farmers delivered their first coffee in 2020. The target was 50,000 kgs. but they managed 24,000 kgs. Wachieni says that the international buyers were very impressed by the quality of the coffee and farmers were impressed that their factory had started operations again. The following year farmers increased to 400 and production rose to 50,000 kgs. of cherry.
The best deal for the farmers was last year as they had agreed on a price of Kshs. 85 per kilo with Kshs. 5 for factory operations. This means that farmers pocketed Kshs. 80 for each kilogram delivered. They delivered about 100,000 kgs of cherry. The number of farmers had also increased to 600 active farmers. The coffee earned them over Kshs. 8 million which they received in January.
Timothy Mirugi the acting Managing Director of New KPCU says that they are happy that the collaboration has worked to the benefit of the farmers. "In 2020 when we met the farmers, they had been getting a paltry Kshs. 14 per kilo. Even now, most factories are receiving an average of Kshs. 40 and Kshs. 60 so this is encouraging. Going forward we need to think of even other ways of processing our coffee. Other countries that have moved in leaps and bounds in coffee processing have ventured into naturals, others called honey processed and anaerobic processing. That niche has a lot of demand but does not meet a lot of supply," he adds.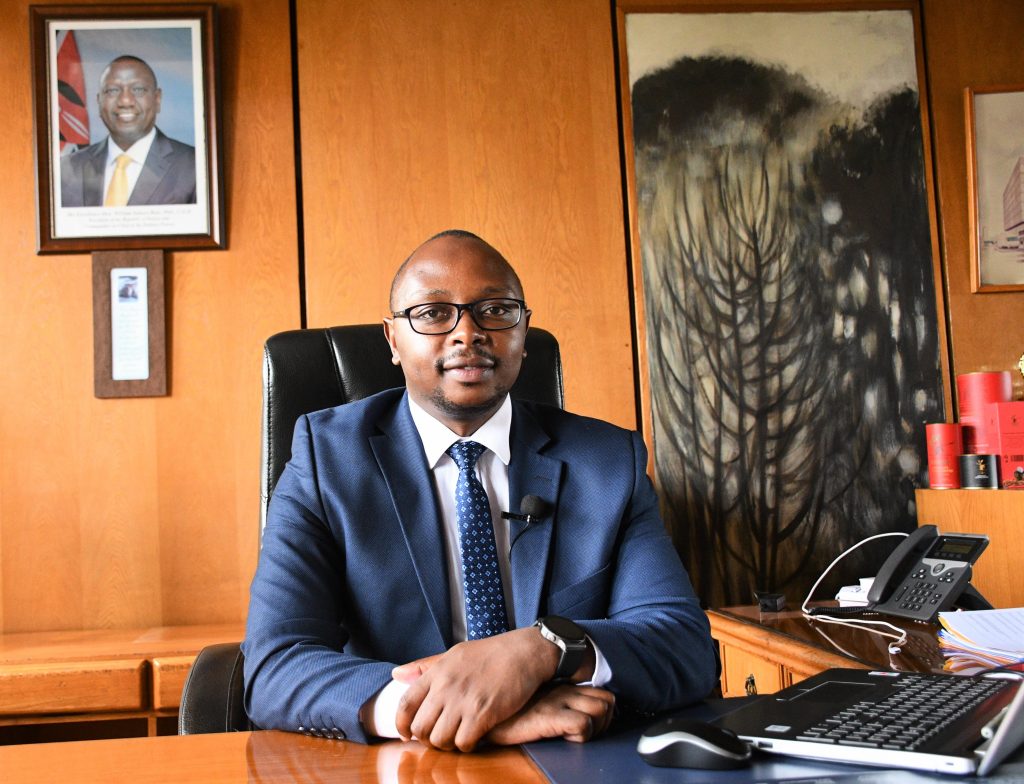 Mirugi says that natural coffee processing has minimum expenses like water and electricity. This makes it possible for the farmer to get a good quote, unlike those factories that have a lot of expenses, especially electricity which is expensive in the country. New KPCU has supported the farmers in various ways like donating a greenhouse for coffee drying, and extension services in collaboration with Crowd Farm Africa. The farmers also access the Revolving Coffee Cherry Fund administered by them. This has enabled them to get money for school fees and other needs as they wait to be paid for coffee delivered.
Unlike in 2019, my visit to Ruui Ruiru was different this year. From a neglected factory then, I was welcomed by two greenhouses used for coffee drying. One was donated by New KPCU and the other one by the County Government of Nyeri. The officials and farmers I meet are wearing smiles including Maina "We are happy. We have never received a lot of money like what we got this year. There was hunger in this area including our livestock. Now we can't complain as our pockets are heavy. In our shopping centres especially in the evening, you will see our farmers carrying a bag full of goodies," says the Ruui Ruiru factory Chairman.
Joshua Wambugu who is the factory Secretary says that they also receive a lot of visitors including overseas ones. "We have received visitors from Japan and Ukraine accompanying our buyers. I have benefited a lot including supporting my children and grandchildren. No farmer is complaining about school fees now," he opines.
For the elderly Cecilia Murugi, she says a cow and a sheep are the best reminders of her benefits since she started delivering natural coffee. She says she now has hope every time she is tending to her coffee trees. "For now, we are very happy and we are going to increase our production. But if you tell us to go back to Mathira North Society we shall cut our coffee," she says with a sense of finality.
For Winrose Nyakinyua, purchasing a water tank and educating her grandchild makes her face glow as she talks about it. She is also determined to increase her production next season. For Boniface Mathenge, his zero grazing project has improved since he can now afford feed for his dairy cattle.
Some several kilometres from Ruui Ruiru, farmers from Kahiraiini Coffee Factory are also celebrating. Having witnessed the success story in Ruui Ruiru, they went there enquiring how they could also get onboard. Gachuhi Ndirangu the factory Chairman says they are happy despite facing various challenges when they decided to open their factory too. They delivered their first coffee last year and he says they had to dig deep into their pockets as farmers to repair drying beds as their factory is in ruins.
"Although we are not using the machines and water, getting back to using a factory that was used for the last time 10 years ago was not easy. We still need a lot of support in repairing more drying beds and if we get a greenhouse, we will also appreciate it. For now, we are happy since after ten years we have received over Kshs. 1.65 million. We are proud of this as it is a good beginning and next year we expect more farmers to deliver coffee to the factory," says Ndirangu.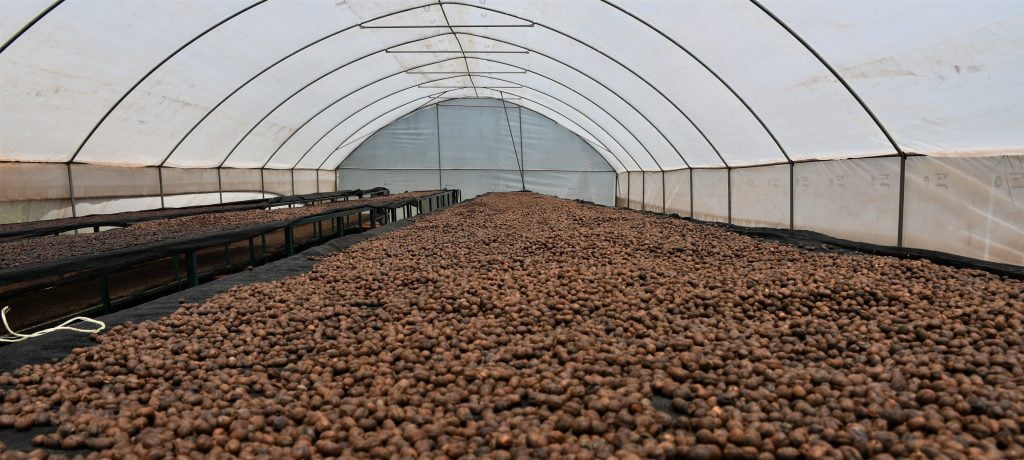 Collectively, the villages near the two factories have Kshs. 10 million circulating among them. The trickle-down effect is being felt by the boda boda drivers, shopkeepers, bar owners etc. Shopkeepers at Marua, Gatung'ang'a, Hiriga, Ngorano and other shopping centres told me that many of their customers had been taking goods on credit promising to pay once they received their coffee payments. They say that after the arrival of the millions the debts were paid and now, they are buying in cash.
Not only the price was the game changer, but the mode of payment adopted is also a darling of the farmers. New KPCU has a system where they ask farmers where they would want their money to be deposited. This is fed into their system and once Crowd Farm Africa receives the money, they wire it to them and then they send it to the farmers. Most farmers prefer their mobile wallets while others want them deposited in their bank accounts.
The issue of negotiating the price before they deliver their coffee has also made the farmers feel that they have control over it unlike before when they waited for any amount brought to them. This can be likened to the Guaranteed Minimum Price that the Deputy President has been advocating for.
Wachieni feels Natural Coffee is a good concept for reviving fallen factories and cooperatives. "If we were to revive equipment in Ruui Ruiru for them to process wet coffee, we would have spent about Kshs. 5 million in repairs alone and not buying new machines. We would have paid very high electricity bills and figured out how to get water from the river to the pulping machines. The investment would have been heavy on our side and not many people would like to put their money into such infrastructure. Hence Natural coffee is the cost-effective and easier way," he adds.