The County Government of Machakos and Kenya Climate Innovation Center (KCIC) have today signed a memorandum of understanding (MoU) aimed at promoting agribusiness ventures among youth and women in the county.
This will be through the AgriBiz programme funded by the European Union and Denmark to the tune of Kshs 5.1 billion. It is aimed to benefit 2,400 youth and women in Kenya and create 17,000 jobs in the next five years. The programme is now set to roll out a business incubation hub in Machakos.
Youth and women enrolled in the programme will be able to access the facility and provided with training, business advisory and access to facilities required for upscaling their businesses.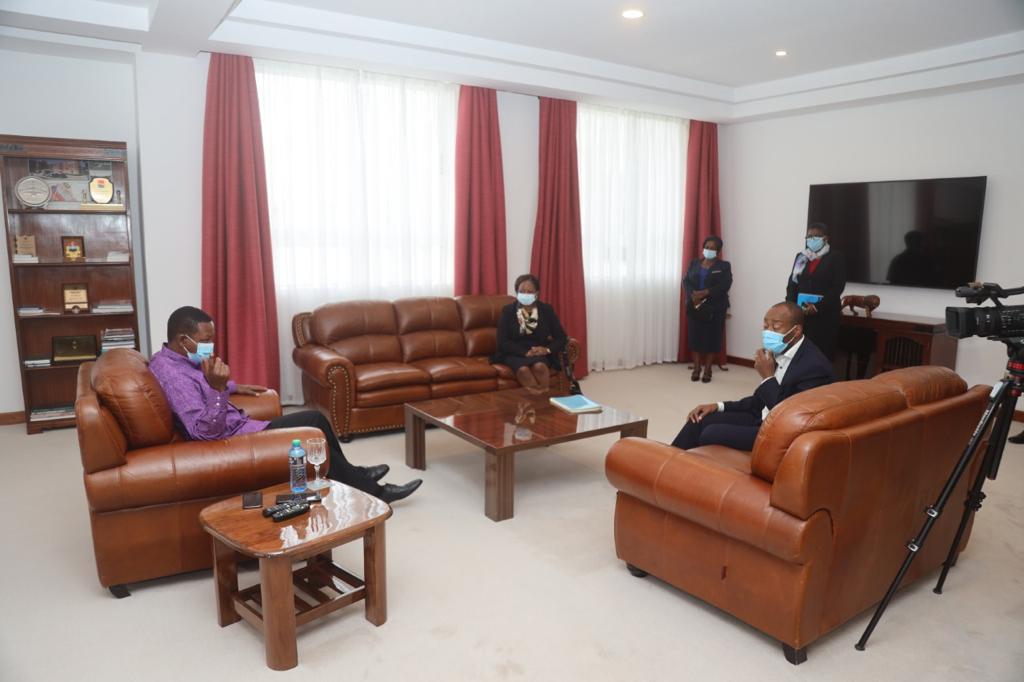 The EU Ambassador to Kenya, H.E Simon Mordue has applauded Machakos County on the step. "Too often, the image of farming is the end-to-end production of staple crops and livestock, often as hand-to-mouth subsistence farming as most farmers do not treat agriculture as a business. Investing in agriculture will help bring a new generation on the farms that appreciate agriculture is a challenging but rewarding business."
While agriculture is a major contributor to economic growth in Kenya – about 753 of Kenyans derive their livelihood from this sector. Agriculture accounts for 333 of the nation's gross domestic product (GDP) according to Kenya National Bureau of Statistics . However, many farmers still operate on a subsistence scale due to limited access to finance, inadequate access to quality inputs, reliance on rain-fed approaches, and limited access to reliable markets.
The Danish Ambassador to Kenya, H.E Ole Thonke said, "We must acknowledge that youth and women face special challenges in accessing business opportunities in agriculture. The AgriBiz programme is designed to identify appropriate entry points for youth and women along agriculture value chains. Unlocking these economic opportunities are critical to strengthening the sustainable agricultural sector and food security that will result in job creation and increasing incomes. The new Hub will create a space to bring innovation and transformative ideas to life."
Machakos County enjoys favourable climatic conditions suitable for various agricultural activities. The county is famous for its mangoes, oranges, avocados, macadamia and other types of fruits. The county government is encouraging farmers to adopt some adaptation measures including water harvesting, dry planting, intercropping, use of drought-tolerant varieties, irrigation, value addition and use of indigenous knowledge in post-harvest handling and disease control to boost production.
Beneficiaries will be trained and provided with business advisory as well as financing offered by KCIC. The County Government will also work with KCIC to promote agribusiness ventures through inclusive policies, access to facilities and access to information.
Machakos County Governor, Dr. Alfred Mutua on his part pledged to support the initiative. "Increased productivity in the agriculture sector is a step towards enhancing food security in the country which goes in tandem with President Kenyatta's Big 4 agenda. My administration will ensure the success of the AgriBiz project to benefit more farmers and enhance agriculture in the region. We are delighted to have partnered with EU, Danida and KCIC in this noble project," said the County Chief.
"This program will truly bring the youth and women in agribusiness a ray of sunshine. Already, we received a number of applications from this county at the central hub, and we are encouraged by the kind of agricultural practices and innovations exhibited by these youth and women," opined Edward Mungai, the Chief Executive Officer at KCIC.