Leaders in Nothern Kenya Counties have asked for the intervention of the government and the international community to contain the devastating swarms of desert locusts that have invaded the region. The locusts have damaged vegetation in the area which is relied by the residents to fee their livestock as they are pastoralists. They have invaded Mandera County and parts of Wajir County. Last month, the Food and Agriculture Organization of the United Nations (FAO) had issued a warning after the locusts invaded Ethiopia and Somalia. FAO had warned that if early intervention measures were not put in place, the locusts would invade Kenya, Eritrea, South Sudan and Djibouti.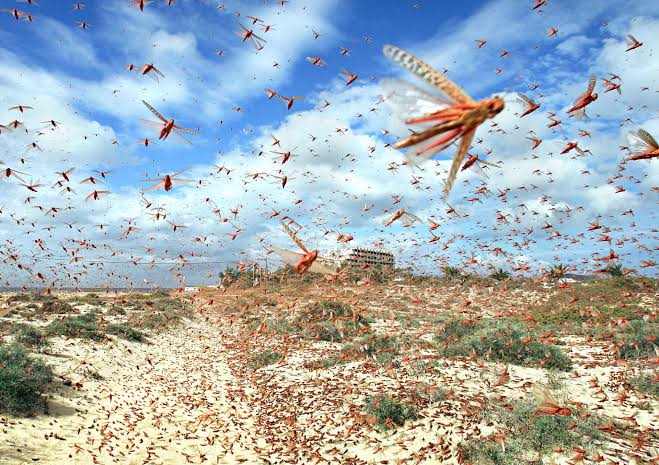 Wajir County Disaster Management Committee led by CEC Agriculture and Livestock Mr. Ahmed Sharif are looking into ways to deal with the locusts menace.
Together with the National Government and other stakeholders, a team has been formed to actualize the plans. It was decided that Wajir will be the operational base due to it's central location and the airport.
The team will start ground operations on New year's day (tomorrow) and thereafter start aerial sprays.A ground team will be trained in in Wajir for 2 days on the essentials before proceeding to Mandera.
According to the CEC, the locusts will be sprayed from the direction they are going to and not where they came from and that the sprays will be done during the night when they are roosting. It was also agreed that aerial sprays are the most effective but have to be supported by the ground team in terms of identifying the roosting sites and the directions the locusts are headed to.
The Counties will provide security for both crew, other personnel and aircraft, as well as transport and fuel for the ground teams. Both County and national governments will provide aircraft fuel.