David Muni Ichoho has resigned as chairman of the Kenya Tea Development Agency (KTDA) Holdings Limited, two years after assuming the role. 
In a letter to the KTDA Group Company Secretary dated Tuesday, June 11, 2023, and which bears a stamp showing it was received by Company Secretary on the same day, David indicates that his resignation is effective this Friday, July 14, 2023, but does not give reasons for the decision.
"I hereby tender my resignation as the chairman of KTDA (H) with immediate effect from Friday, 14th July 2023 at 1400hrs," reads the entirety of the letter which was handwritten and signed by David Ichoho.
The resignation comes soon after the conclusion of the Tea Reforms Conference last week in Kericho, which was hosted by DP Rigathi Gachagua who challenged KTDA to carry out meaningful reforms for the benefit of the smallholder tea farmer.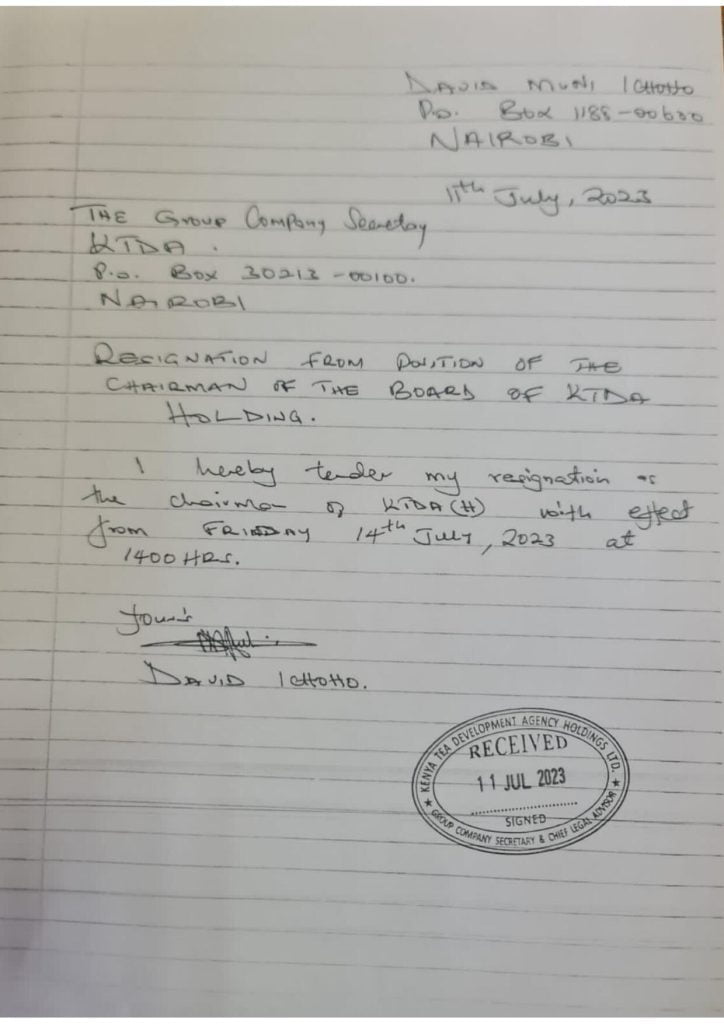 During the conference the DP hit out at some individuals, saying he will be inviting the National Intelligence Service to move in and conduct an audit.
"Farmers are very good people and have sent us details. Somebody has travelled 36 times out of the country on farmers' money. You must agree to work with us or you lose everything, otherwise as a government, we have a way of removing you from office so that we work together.
"We have received very crucial details from farmers, some of whom have texted me because I have never changed my number. I have done a few cross-checking and we are going to give our National Intelligence Service to verify so that we are not accused of being unfair. Once that is processed and verified, we shall call you the directors and tell you the truth so that we can agree on how to move forward," he said.
Ichoho took the reins as KTDA Holdings Chairman in June 2021 following the nationwide ouster of the previous tea factory and KTDA board directors in line with the Jubilee Government's directive for reforms in the smallholder tea farming sub-sector.
Soon after taking up the role, he said farmers had exercised their rights and decided "…to make leadership changes with a view of charting a new direction towards a sustainable and profitable farming in tea sub-sector for smallholders."