By Kimuri Mwangi
Agnes Ndia smiles as she looks at the people congregated in her farm at Kathera Kiamugaa Village in Runyenjes Ward, Embu County and breaks into a smile. The fact that they have come to showcase to other farmers even in other countries how she is practicing conservation agriculture is hard to sink. Previously, she almost abandoned farming altogether since her harvests were dwindling after every season.
Today a virtual field tour is taking place at her farm under the CGIAR's Ukama Ustawi initiative and led by the International Water Management Institute to showcase diversification and sustainable agricultural mechanization as well as conservation agriculture. Apart from the farmers and experts in her farm, many others are watching online as the cameras point to her maize, beans and other crops in her farm.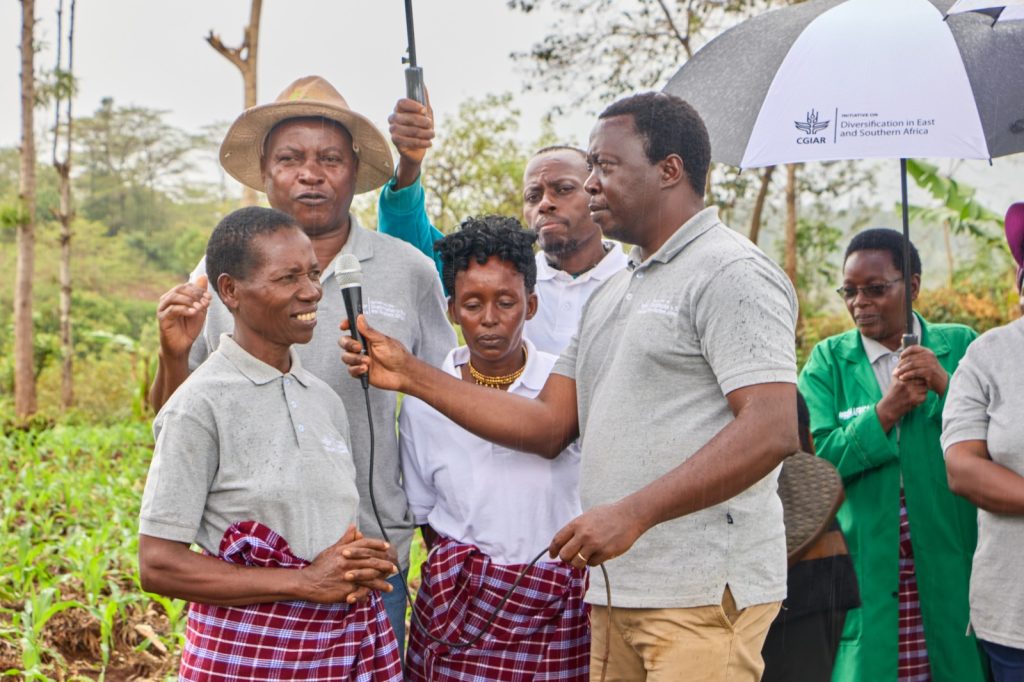 Agnes says previously, she didn't know how and when to apply the correct fertilizer, deal with pests and diseases and also didn't use the various technologies included in the project. This would change when she and her village mates met with experts from the Kenya Agricultural and Livestock Organization (KARLO) who are partnering with CGIAR. "I have learnt so many things from the project and today I harvest a lot and I have money from selling my farm produce. I have also increased my farming area from one to three acres," she says.
Laurentia Ruguru from Kirangano village says she used to spend a lot of money but her farm proceeds were down. She never applied fertilizer or mulching to her farm and also never bought the right seeds during the planting season. "Although changing our mindset from how were framing in the past for so many years to this new way of farming was not easy, we can now see the benefits," she opines. She used to harvest one bag of maize and ten kilograms of beans compared to last season where she harvested one bag of beans and ten bags of maize.
On his part, John Muriithi from Gicegeri village says he turned to farming after losing his job and joined those under the project. He remembers when most people didn't harvest anything due to drought in the area, using mulching and furrow planting saw him get a good harvest of beans.
Catherine Muriithi, a Senior Research Scientist with KARLO says the project has changed farming in the County. "For the last three seasons we have worked with the Ukama Ustawi Project in Embu where most of the people are small scale farmers and have continued to subdivide the land. With the fragmented land coupled with climate change, the yield has continued to decline. So, the project came in handy because we are in six wards within Embu and within these, we have six sites. The six sites are called mothers since we have used the mother and baby approach. So, in each site we have a mother and between 20 to 30 babies where we have used several technologies and teaching the farmers about conservation agriculture," she says.
Some of the technologies is the use of mulch, furrows and ridges which are used to retain water.  After the mulch decomposes it adds to soil fertility so even during the following season, you'll find the soil structure and profile has also improved so there is a lot of advantages when you practice conservation agriculture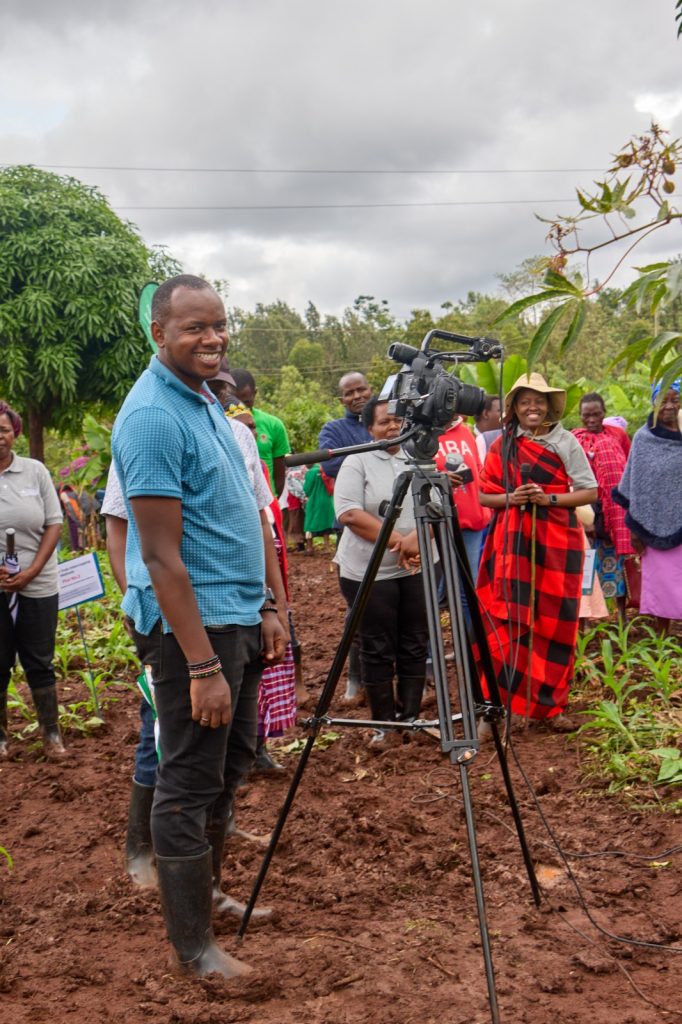 They also practice crop diversification where they plant maize and beans which are drought tolerant. They plant the Nyota bean variety from KALRO which is high yielding and enriched with iron and zinc.
"So even if we are able to conserve just a little moisture within the ridges and even if the rain disappeared, you'll find the farmers will still harvest. Infact, it was even more visible in season one and two where we had crop failures in most of the farms. We have a youth who planted one and a half kilos of beans and was able to harvest 38 kilos which is almost closer to what we achieve in research because from one kilogram we get between 39 to 40 kgs. So, the farmer was very close to the potential yield of that variety. In this particular field we have a spacing of 50 centimeter of maize and 50 centimeters of beans where we do four rows of beans and four rows of maize alternating in the same plot," says the expert. The aim of intercropping is to ensure that if the rains failed the farmer would harvest one crop unlike where they would lose all if they had planted just one.
She says that this time they are also partnering with the International Potato Centre (CIP) who have supplied them with orange fleshed sweet potatoes vines. Orange fleshed sweet potatoes are nutritious in terms of the provision of vitamin A and beta carotene which is useful to the eyes.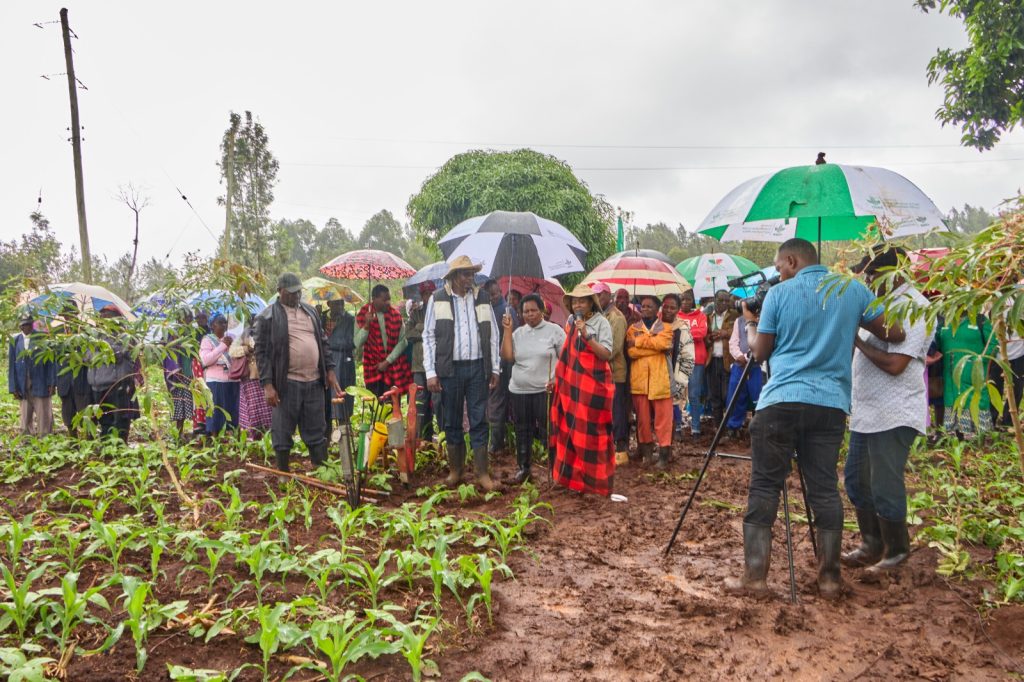 They have also integrated grasses like brachiaria grass into the ecosystem as she explains. "We can call it a drought resistant variety and it is actually a Climate Smart grass. This is because it retains a lot of carbon within the root system and you know one of the gases that destroy the ozone layer is carbon dioxide so when you plant brachiaria it is able to get a lot of carbon dioxide from the air and it is retained within the soil. So rather than the farmers taking all the crop residues to the animals we have been able to achieve crop livestock integration because they'll have grasses for their animals and they are able to retain the mulch. When the animals are given the grass, the manure will be of high quality and it is also brought back to the farm."
Farmers are also reminded to practice crop rotation using maize and beans which are the most common there.  Maize will do well where beans which is a legume had been planted. This is because legumes are able to form a symbiotic relationship with nitrogen-fixing soil bacteria called rhizobia. The result of this symbiosis is to form nodules on the plant root, within which the bacteria can convert atmospheric nitrogen into ammonia that can be used by the plant.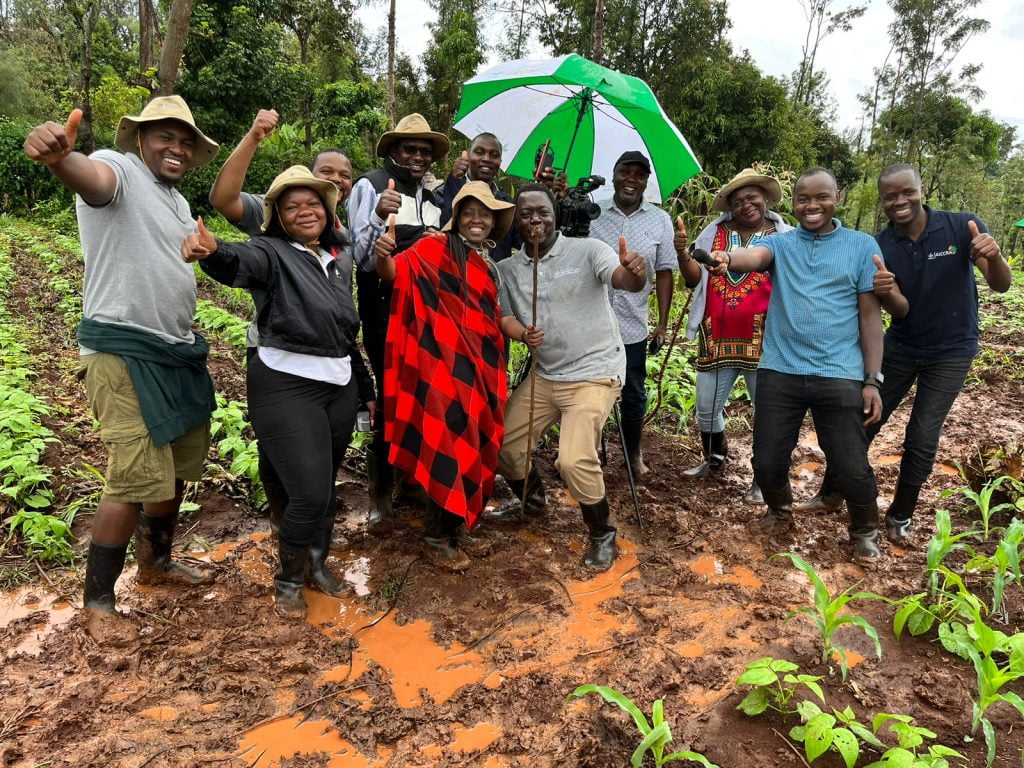 So has this increased the farmers" harvests? "Actually, we carried out a baseline survey when starting. Like this particular farm, she was getting one tonne per hectare and after first two seasons, we have moved from 1 ton per hectare to 4.1. So, we have gone almost three to four times higher than the way we began. Apart from maize and beans you can also bring in other crops like the sweet potatoes we have brought or cassava," says Catherine.