Nyeri Governor Mutahi Kahiga signed a Memorandum of Understanding with Kenya Pet Recycling Company (PETCO), The Waste Electrical and Electronic Equipment Centre (WEEE), and Jupiter Neon.
The county government says in pursuit of excellence in garbage waste management, the three companies will work hand in hand with the County Government to promote environmental awareness, waste handlers training, waste bin provisions, and provide markets for recyclables.
PETCO has promised to build capacity by training residents to sort garbage waste at source and use color-coded bins. They will also train local waste collectors on the different types of plastics to be collected as they provide markets for the same.
The WEEE Center will train on electrical and electronic waste collection, safe disposal, and metal recovery. They shall train the staff and community on e-waste management and assist the County Government in developing an e-waste policy.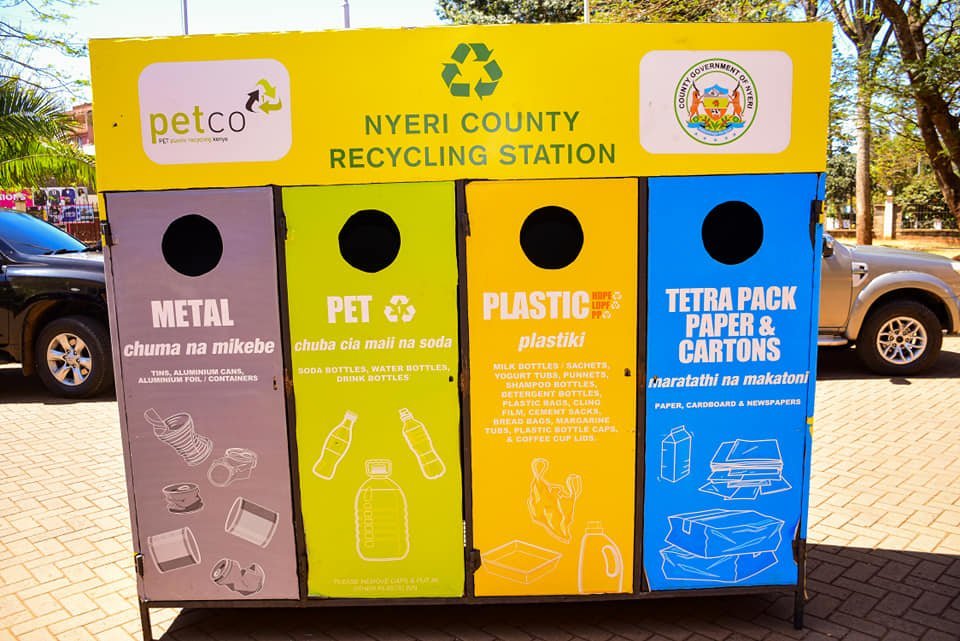 On the other hand, Jupiter Neon is a private limited company that wants to install fibre litter bins at no cost to the County Government but shall use the same for advertising revenue. They shall provide three colour-coded litter bins to assist the community in waste segregation.
Governor Kahiga welcomed the partnership, noting that the County Government is committed to keeping the promise to Nyeri residents on the wider mission to accomplish and achieve solid waste management within the County and encouraged the concerted efforts from the raw material producers, brand owners, retailers, consumers, and recyclers.
The County Government currently has 53 skip bins, 15 waste chambers, and 8 collection trucks to enhance efficiency in garbage collection. In partnership with Biogas International, the County Government has also installed a pilot project at the Karindundu dumpsite to convert organic waste into valuable commodities such as biogas, organic fertilizers, and manure. Previously, the department, in partnership with Tetra Pak, PETCO, the South African PET Plastic Recycling Company, ACT Africa Collect Textiles, The WEEE Centre, Coca-Cola Beverages Africa – Kenya, and Bottle Logistics East Africa, conducted the first-ever Nyeri County Waste Collection drive at Whispers Park in a campaign themed #Mywastemyresponsibility; a mantra that encourages waste segregation at source. The drive saw waste such as used clothes/shoes E-waste, glass, paper, metals, and plastics collected for recycling.
Joyce Gachugi from PETCO, Dr Thomas Musili from
the WEEE Centre and Dickson Munene from Jupiter Neon represented their organizations.