Coffee marketing in Kenya has been a complex process for the local farmer to understand. Often, farmers have just agreed to whatever price they are offered by companies after their coffee is sold. One concern that was raised in the recent Coffee Reforms Conference held in Meru was that a farmer loses ownership and authority over his/her coffee the moment it is given out for milling from the pulping factories. The farmer only gets to hear about the price it was sold later, often below their expectations. Cooperative expenses are then deducted from the farmer's earnings further reducing the amount pocketed.
However, the conference revealed another crop of farmers that is privy to matters coffee right from production to selling. They asked complex questions and whenever an unsatisfactory answer was given, they voiced their disagreement. They also participated in the discussions that gave out recommendations for coffee marketing together with other stakeholders including Members of Parliament and Senators.
The recommendations from the conference were:
A recommendation to establish a Minimum Guarantee Return (Reserve Price) was proposed at 1.2 dollars excluding the cost of production.
Establish a coffee price stabilization fund meant to cushion farmers in the event of drastic price fluctuations
Prompt payment of coffee farmers (make coffee cash in Kenya)
Provide price risk management mechanisms to deal with prevalent price volatility.
Recommend Direct sales of coffee to shorten the value chain – a parallel system of direct and indirect sales
Identify five major trading countries and explore new emerging markets and open warehouses for ease of access in the foreign markets
Global marketing strategy by involving stakeholders such as trade attaches, professional representatives, and brand ambassadors with coffee-specific KPIs
Legislators to undertake market survey abroad to determine the price of coffee in the international market
Legislation to ensure coffee is paid in dollars instead of Kenya shillings to protect farmers from price fluctuation.
Aggregation and selling of coffee in parchment to benefit from economies of scale – centralized warehousing
National Branding of Kenyan Coffee and the uptake of coffee tourism. The example of South Africa wine routes tourism was given
Promotion of Kenyan coffee internationally through joint industry initiatives to create and execute a global marketing strategy, by involving stakeholders', growers (brands) and leading roasters/retailers, and brand ambassadors such as athletes, in liaison with Ministry of Foreign Affairs, Kenya Tourism Board, Export Promotion Council, Athletics Kenya, and National Olympic Committee. The Promotion to include emerging markets such as East- Asian countries and other African countries.
Revival of the Coffee Board of Kenya
Empowering the Kenya Export Promotion and Branding Agency
The restructuring and strengthening of Nairobi Coffee Exchange to enhance accountability through widening representation even from growers/ farmers and facilitate trading throughout the week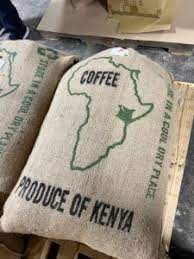 Review of laws to ensure that cross-ownership does not exist along the marketing chain.
Develop legislative systems to build direct relationships between growers and consumers to ensure traceability and transparency for better returns and improved farmers' livelihoods.
Develop a code of ethics that specifies different roles by marketers
Review the current model of coffee marketing to encourage local coffee roasting and consumption. This includes the promotion and the establishment of coffee shops locally and the consumption of coffee in schools
Reinstate grower marketer license to also include selling of coffee internationally, locally and value addition. A grower should be able to offer their coffee through direct sales, local sales and auctions under the reconstituted Nairobi Coffee Exchange.
Consider locally manufactured sisal coffee bags and zero rating of coffee bags since there were complaints that there was a shortage and when available they were expensive.