As a way of enhancing creation of more jobs for the youth in the agricultural sector, the Ministry of Agriculture Animal Industry and Fisheries is implementing more recommendations of the National Strategy for Youth Employment in Agriculture. The recommendations call for stepping up support for innovative youth groups and youth ICT experts in the agricultural sector to create value chain jobs for youth beyond the on-farm activities

Hon. Vincent Bamulangaki Ssempijja has launched an ICT-enabled call centre by the name "Kilimo Call Centre" that will allow farmers to make use of a toll-free line to acquire standardized guidelines and answers to inquiries.
Complementing ongoing work to step up Agricultural Extension Services
The Call Centre and other similar initiatives are complementary to the recruitment drive under the Single Spine Extension System where Government embarked on the recruitment of Public Agricultural Extension Staff in Local Governments.
This recruitment drive has reached 3,032 extension staff which is 60% of the target (5000 recruited extension workers). The extension worker to Farmer ratio has reduced from 1:5000 5 years ago to about 1:1800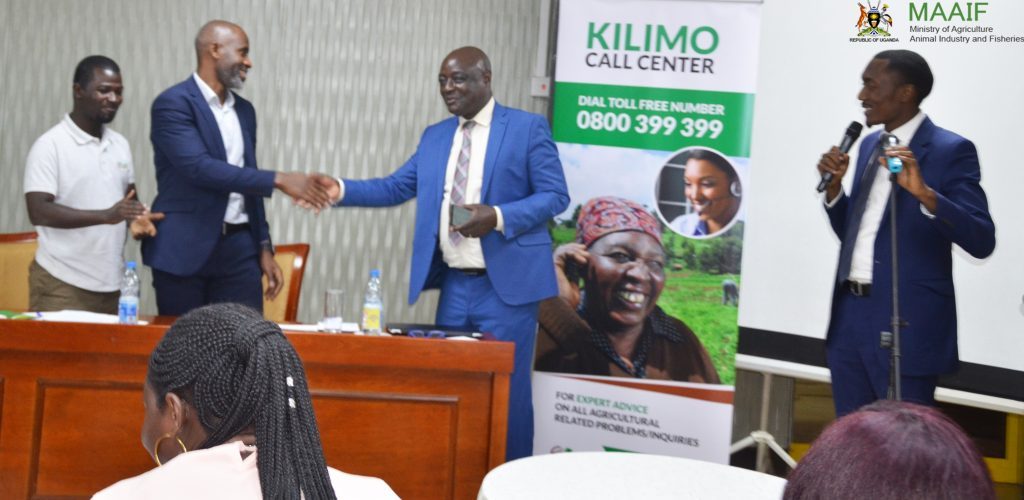 Implementing sector-wide strategies
The support for the youth through the Ministry is guided by the National Strategy for Youth Employment in Agriculture which will be followed by a National Strategy for ICT in Agriculture that is being developed through support from the Agriculture Cluster Development Project (ACDP).
The ICT-related component of the project focuses on promoting the use of digital technologies such as information systems to transfer and disseminate production, climate, market and advisory information in the country.
Through the project, the Ministry will complete design of the Agricultural Information Platform (AIP), ICT Business Impact Support as well as Design and Development of the Agriculture GeoPortal.
The validation of the e-extension platform; http://aais-ug.site, the e-diary; http://aais-ug.site/e-diary, was concluded on the 6th of May 2019 and piloting of the application is underway before its deployment.
A performance monitoring and evaluation system; http://maaif.me, was also validated on the 30th of April 2019.